Scottish independence: Put your referendum questions to John Swinney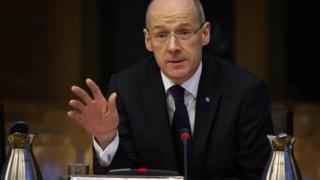 The latest in our series of independence referendum webcasts will see John Swinney answering your questions.
The BBC's Bill Whiteford will be putting your points to the Scottish finance secretary, in a week when the currency of an independent Scotland has formed a central part of the debate.
If you have something to ask Mr Swinney email newsonlinescotland@bbc.co.uk
Please put "Referendum questions" in the message field of your email.
Scotland's electorate will go to the polls on Thursday, 18 September, to vote in the independence referendum.
They will be asked the Yes/No question: "Should Scotland be an independent country?"
The interview with Mr Swinney will be published on BBC Scotland's news website.