Charities voice concern over welfare fund underspend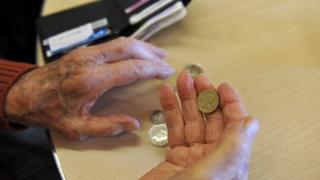 Charities including Barnardo's and Shelter Scotland have expressed concern over an underspend on a crisis fund to help people needing financial aid.
A total of 35,000 households were given grants under the Scottish Welfare Fund between April and September, 2013.
Councils had been expected to spend £16.5m in the first six months of the scheme, but actually spent £9.2m.
The Scottish government said it expected more grants to be allocated as awareness of the fund increased.
Scottish local government body Cosla conceded that spending had been low during the fund's first six months but insisted it had risen after September.
The Scottish Welfare Fund, which helps pay for expenses like food and heating bills, was set up after the UK government abolished community care grants and crisis loans in 2013.
Scottish ministers, who got control of the funding, put in an extra £9.2m, boosting the total budget to £33m for 2013-14.
Scottish government-published figures said there were just over 49,000 applications for crisis grants, of which 68% were successful.
There were also 20,536 applications for community care grants, to pay for items like washing machines, cookers and beds.
A total of 61% of those applications were successful.
Barnardo's Scotland director Martin Crewe said: "It is concerning these figures still show that many millions of pounds are going unspent.
"Sadly we know, through the work of our services and through things like the marked increase in demand for food banks, that there are too many vulnerable people out there who could be making use of this lifeline, but who are not accessing it."
Graeme Brown, director of housing charity Shelter Scotland, added: "An area for concern is the high number of refusals for some types of grant.
"We need to investigate further why this is happening and ensure public and advice agencies get accurate guidance on application criteria so they can give informed advice on accessing the fund."
The most common reason for rejection of an application was that it did not "meet the conditions of an award".
The Scottish government said separate, informal figures showed an increase in fund spending up to December, following a revision of guidance in October.
Scottish Welfare Minister Margaret Burgess, said: "This is the first report into how the Scottish Welfare Fund is being used and shows that demand for grants is increasing.
"These figures show over £18m has now been claimed and we are expecting that to increase further as awareness of the fund grows.
"Today's report also highlights that there are still some variations between councils and we are working with them to ensure that is improved."
A Cosla spokesman said: "Significant changes in the guidance for the fund in October and targeted promotional activity afterwards have brought the monthly applications, and awards made, above those that were originally anticipated.
"Our informal monitoring shows that up to the end of December we dispersed nearly £19m to Scotland's poor and vulnerable people. Many have been affected by the UK government's recent changes to the welfare system.
"We will continue to welcome the work of the voluntary sector to direct eligible people to access this new support."
Labour's welfare spokeswoman Jackie Baillie, said: "The Scottish government, instead of celebrating the little that has been done, should be concentrating on what more it has to do.
"But as ever when it comes to welfare, the SNP wants control over all welfare but when given the opportunity, fail to get the money out the door and into the pockets of those in most need."
The Scottish Welfare Fund was introduced on an interim basis for the first two years.
Applications for the non-refundable grants are prioritised on the basis of need, with local authorities able to decide to provide support in different ways.