Potholes cost councils £1,600 a day in compensation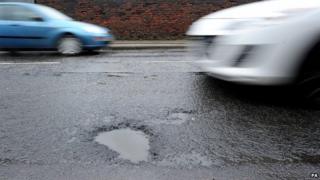 Scottish councils are spending more than £1,600 a day on compensation for drivers whose cars have been damaged by potholes, it has been revealed.
In total, £584,745 was paid out last year to drivers, with the five-year total now passing £2.7m.
Glasgow City Council had by far the highest amount of payouts, with a total bill of £360,000.
The statistics were obtained by the Scottish Conservatives through Freedom of Information laws.
The party said the figures showed greater spending was needed on Scotland's road network.
Local authority umbrella group Cosla said councils were taking action to tackle problem potholes, despite falling budgets.
The amounts paid out last year by local authorities, for repairs such as suspension damage and burst tyres, varied considerably.
Outside Glasgow, Aberdeenshire was forced to settle £34,000 of claims, and the figure in Edinburgh was more than £27,000.
However, others such as Clackmannanshire and Moray did not have to pay any compensation to drivers.
Scottish Conservative transport spokesman Alex Johnstone, said: "The state of roads both in the city and the countryside are a matter of real concern for motorists.
"We need to make sure surfaces are kept in good condition because investment in that would very much reduce the cash paid out in future."
He added: "Perhaps if the Scottish government took more of a lead in properly investing in our road network and supporting motorists, it would encourage more councils to do the same.
"Only when the overall standard of roads are improved will we see these compensation figures come down."
Cosla development spokesman Stephen Hagan said council officers had been having discussions with a range of organisations to better understand the road maintenance industry and compensation claims.
He added: "Road conditions have improved and councils have spent 20% less in achieving these outcomes in recent years, a tremendous achievement in times of tighter overall budgets."
Roads 'commitment'
A Scottish government spokesman said local authorities were responsible for local roads in their area.
The spokesman added: "The Scottish government is providing local government with over £10.3bn in 2013-14 to allocate on the basis of local needs and priorities.
"Between 2007-08 and 2012-13 local government's budget increased by 8.9%, demonstrating the strong financial settlements agreed during challenging financial times."
The government spokesman added: "In terms of Scottish government's responsibilities, we are fully committed to ensuring the trunk road network remains safe, efficient and enables businesses and commuters to engage with each other more effectively.
"That is why we have invested over £2.6bn on our roads and motorways since 2007."