Scottish independence: Charles Kennedy calls for 'positive' campaign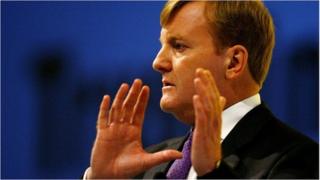 Former Liberal Democrat leader Charles Kennedy has called for a "positive" campaign to persuade voters in the Highlands to stay in the UK.
Mr Kennedy backed an alternative to the "Labour-SNP battle taking place across the central belt".
Ahead of the 18 September independence referendum, the Highland MP said more devolution for the region was needed.
The SNP's Rob Gibson argued the area would be better represented in an independent Scotland.
Mr Kennedy, whose comments came at a meeting of the pro-Union, Better Together campaign in Inverness, expressed the need for "a distinct tone of voice" when addressing the concerns of voters in the Highlands and islands.
"Ours is not a mirror image of the essentially Labour-SNP battle taking place across the central belt," he said.
"While all the same essential questions being posed of the Yes campaign apply, both the political geography and campaigning history across our unique area of Scotland requires even more emphasis on the constructive and the positive.
"Voters here do not want shrill exaggeration, they want sensible engagement."
Mr Kennedy, who led the Liberal Democrats from 1999-2006, also said there was also a "pressing need" for the Better Together campaign to set out a post-referendum vision for the Highlands and islands.
The Ross, Skye and Lochaber MP, added: "This, I believe, must focus on the necessity for more devolution - but within and across Scotland.
"And nowhere more so than here."
Responding to Mr Kennedy's comments, Mr Gibson said: "Charles Kennedy is right to call for a positive campaign, and part of the positive case for a Yes vote is that MSPs from the north of Scotland will make up a quarter of the MSPs in an independent parliament, compared to just 1% of the parliamentarians at Westminster.
"This will give the Highlands and islands and the key industries we rely on to build livelihoods and prosperity here far more influence in an independent Scotland than can ever be the case at Westminster."
Voters in the referendum will be asked the yes/no question: "Should Scotland be an independent country?"