Civil court reforms to speed Scottish justice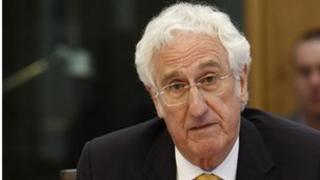 The Scottish government has published a bill to reform the civil court system, which was criticised for being "slow, inefficient and expensive."
New specialist personal injury courts will be introduced to speed up proceedings.
And the financial threshold for sheriffs hearing cases will be raised from £5,000 to £150,000.
Ministers said the reforms will make civil justice more accessible, affordable and efficient.
But trades unions have claimed the changes will benefit insurance companies who will be able to afford costly litigation.
The Courts Reform (Scotland) Bill implements many of the recommendations of a review carried out by Lord Gill, Scotland's most senior judge in 2007.
The Scottish government said the measures would ensure the right cases are heard in the right courts at the right cost.
Lord Gill, the Lord President, said: "Delay and cost have been the bane of Scottish justice for decades.
"These reforms will enable the courts to deliver the quality of justice to which the public is entitled."
'More accessible'
Civil courts handle cases which normally have not involved laws being broken; instead they are concerned with contract disputes, or claims for damages arising from negligence which caused injury or loss.
But procedures can be complex -- and costly.
Measures included in the bill include:
Increasing the threshold under which sheriffs can handle civil cases from £5,000 to £150,000 - freeing up the Court of Session to deal with the most challenging civil disputes
Creation of a new national personal injury sheriff court, staffed by specialist sheriffs
Plans for specialists in areas of law such as family, housing, personal injury and commercial law, with sheriffs having the expertise to deal with these issues as swiftly as possible
The bill also proposes that criminal appeals for minor cases heard by JP or sheriff courts could go to a new national Sheriff Appeal Court, removing the need to go to the High Court in Edinburgh.
Justice Secretary Kenny MacAskill said: "As highlighted by Lord Gill, our civil justice courts have remained relatively unchanged for more than a generation and need to be made more effective and efficient.
"This bill takes forward our commitment to ensure that Scotland's civil justice system becomes more accessible, affordable and efficient for those people who need to resolve civil disputes."
Cost-effective
He added: "Our reforms will help us ensure that the right cases are heard in the right places - reducing delays, cost and bureaucracy.
"They will also offer clearer routes to justice and more specialisation for a range of cases, from personal injury cases to family law."
The Scottish government said sheriff courts could absorb the additional workload; cases which would no longer go to the Court of Session amounted to only 3% of sheriff court business.
The proposals were welcomed by consumer groups which said cases would be dealt with more quickly and cost-effectively.
Richard Lloyd, executive director of Which? said: "Which? supports the plans under the Courts Reform Bill to move business below the value of £150,000 in to the sheriff courts as this will mean more consumers will be able to seek redress for poor services or faulty goods.
"That will be good for consumers and good for the many businesses that play fair with their customers."
Colin Borland, the Federation of Small Businesses' head of external affairs in Scotland, said the reforms would make it easier for companies to recover outstanding debts.
He said: "Pursuing a debt through the courts can be a prohibitively lengthy, uncertain and expensive slog for a small business.
"Many larger companies know this and use their small suppliers as free credit with impunity.
"Figures published at the end of January 2014 show that more than half of our members were paid late by their big customers last year."
But Patrick McGuire from Thompsons solicitors, one of Scotland leading civil law firms, said the proposals might actually restrict access for some.
"We have very real concerns that some of the proposals in the bill will have no effect on reducing costs but will severely limit access to justice for ordinary working people," he said.
"The justice system in Scotland must serve all people equally and not allow the scales to be tipped in favour of those with deeper pockets."
The Scottish Trades Union Congress (STUC) said the proposals included a loss of automatic right to being represented by counsel in civil cases which would favour well-funded insurance companies.
General Secretary, Graeme Smith said: "We will face the potential of trade unions being outgunned by the massive resources of the insurance industry and the big businesses they represent.
"We fail to see any other beneficiary from this measure which will save the courts little or no resource whilst rebalancing the civil justice system in favour of the powerful."