Scottish independence: Pension age rise 'could be delayed'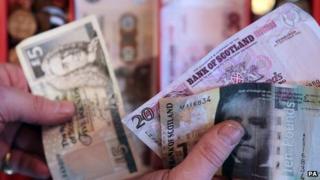 An independent Scotland could delay the rise in the state pension age by 12 years, according to economic analysis.
It could benefit from a lower cost of providing pensions as Scots, on average, have shorter lives than the rest of the UK (rUK).
The data suggests those receiving private pensions in Scotland could be helped by higher yields on their government bond investments.
However, that would come at a cost to the working taxpayer.
There would be a fall in the number of workers relative to the number of pensioners.
The findings are among a wide-ranging economic review of the case for independence, published by the National Institute of Economic and Social Research (NIESR).
It examines the prospects for taxation and public spending, with one response to the Scottish government's white paper on independence saying that it would need to do better at balancing its many 'giveaways' with its 'takeaways'.
The research also questions what choices an independent Holyrood would make between a lower-tax, market-based economy and one in which the state spends heavily to support social cohesion.
The research on pensions has been carried out at Stirling University by Professor David Bell, David Comerford and David Eiser.
It reflects on the lower life expectancy of the average Scot, compared with the rUK, saying that currently means a transfer of resource out of Scotland to pay the state pensions of people who live longer elsewhere.
That mortality gap is slowly closing. It is projected to remain for those currently aged between 30 and 60, but life expectancy is expected to be closer to rUK levels for those Scots now under 30.
Recent figures calculated that it costs between 6% and 8% less to provide the state pension in Scotland.
The economic analysis estimates that the pressure for the UK government to raise the state pension age to 67 by 2027 is not as great in Scotland.
If other factors remain constant, an independent Scotland would not face the same pressure to raise the state pension age to 67 until 2039. However, that delay would cost the Scottish government about £750m per year.
The Scottish government's white paper on independence proposes a review to look into the state pension age.
The pensions research also suggests that those receiving private pensions would benefit from the higher yield that economists believe could be expected from an independent Scotland's government bonds.
But it points out this would have to be paid by taxpayers, funding that borrowing - meaning a transfer of resources from younger to older generations.
The shape of Scotland's demographic change is also examined in a paper by the University of Ottawa.
Population projections suggest that the number of working age Scots will grow at a slower rate than in the rUK, partly through lower immigration. They say that will put an extra burden of taxation on workers, amounting to about 1.4% of national income by 2035.
However, the authors go on to point out that this is a much smaller factor than the overall pressures from demographic change affecting the whole of the UK and other countries.
They conclude: "Demographic change is not a strong argument influencing the choice between the status quo and independence."
'Fiscal gap'
Research at the Institute of Fiscal Studies, much of which was published last year, points to strong demographic pressures on public spending.
Allied to projected declines in oil and gas revenue, researchers estimate a fiscal gap opening up for an independent Scotland that could be more than twice as big as that for the UK.
"Scotland would be required to make more spending cuts and/or tax increases after independence, in addition to those already planned by the UK government, in order to ensure long-run fiscal sustainability," they write.
They also reflect on the independence White Paper, saying its policies "contained greater giveaways than they did takeaways. Ultimately, this balance would likely need to be addressed if an independent Scotland was to achieve fiscal sustainability".
Professor John McLaren and Jo Armstrong, at the Centre for Public Policy for Regions at the University of Glasgow, also assess the fiscal position for Scotland.
They say recent years show Scotland has had a relative government deficit of £7bn, until oil and gas revenue is accounted for.
With long-term decline in offshore energy revenues, it says that deficit implies the need for spending cuts, unless there is a significant rise in oil prices, which would boost revenues. The future direction of oil revenues is hotly contested in the independence debate.
The Glasgow centre has also analysed the case for measuring Scottish income or output by more meaningful measures than Gross Domestic Product.
They have taken Scottish government estimates for Gross National Income (GNI). These account for outflows of profits from oil and from whisky and inflows of profits from Scots investments elsewhere.
The data, described as "experimental" in statistical terms, appears to show Scotland being considerably better off than indicated by other measures, including GDP.
However, it is concluded that there are too many uncertainties about the way that GNI measure is reached.
Social welfare
A further NIESR analysis of options for an independent Scotland considers the choices made by small European countries from the perspective of political science.
Professor Michael Keating and Malcolm Harvey at Aberdeen University write about the move from the dominance of large states to a larger number of smaller ones, suggesting they may be "better equipped to adapt to find their own niche in the global division of labour".
They highlight choices between a liberal-market approach using tax cuts, although they warn such countries tend towards income inequality and limited social welfare, and the "social investment state", with higher taxes spent on supporting the economy.
It says the SNP continues to mix those approaches, but points to weaknesses in the independence White Paper where it promises more social support as well as tax cuts.
This Aberdeen paper highlights weaknesses in government policy-making at Holyrood, while it says Scotland already has a different approach, based on "negotiation and compromise, in contrast to the more unilateral and sometimes confrontational style found in London".