Scots 'bedroom tax' arrears amount to £5m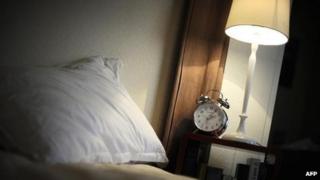 Rent arrears of at least £5m are owed to Scottish councils and housing associations as a result of the so-called "bedroom tax".
Figures compiled by the independent Scottish Housing Regulator also suggest the level of arrears is increasing.
Earlier this week the Scottish government announced a fund of a further £15m which would mitigate the impact of the bedroom tax.
However, it requires UK government approval before it can be distributed.
The Housing Regulator looks after the interests of tenants in socially rented accommodation, including council and housing association homes.
It has revealed total arrears of £73m at the end of last September - six months after benefit changes came into effect.
The changes cut housing benefit for people living in homes deemed to have surplus bedrooms.
Tenants' interests
Arrears amounted to 4.43% of total rental income -- up from 3.9% 12 months earlier.
Landlords estimated the value of of arrears arising directly from the benefit changes to be £4.86m.
However, the real figure is likely to be higher as only 80% of social landlords contributed to the survey.
Iain Muirhead, the regulator's director of strategy and communications, said: "Our role is to protect tenants' interests. To be successful and deliver for their tenants, social landlords need to be financially healthy.
"This research helps us to understand the challenges landlords face. The picture is complex, and some of the emerging patterns are subtle rather than stark.
"Arrears fluctuate seasonally, and other evidence suggests an increased use of discretionary housing payments to mitigate arrears.
"Nevertheless, our research indicates that many landlords believe that welfare reform is beginning to have a significant impact on their arrears levels."
An estimated 76,000 Scottish households are affected by what critics have dubbed the "bedroom tax".
It is not in fact a tax but cuts in housing benefit for tenants who are deemed to have one or more spare bedrooms.
Additional funds
The UK government says it is effectively ending a spare room subsidy as part of a wider package of welfare reforms designed to save money.
The Scottish government is against the measures and has promised to abolish it if there was a "Yes" vote in the independence referendum.
Deputy First Minister Nicola Sturgeon said she was "more than willing" to spend the Scottish government's extra £15m topping up discretionary housing payments (DHP).
But the Scottish budget has already earmarked the maximum allowed under Department of Work and Pension (DWP) rules.
The DWP said it had set aside additional funding but that only a third of Scottish councils had applied.
Ms Sturgeon is writing to the UK welfare minister, Lord Freud, asking him to lift the cap to allow the Scottish government to help more of those who are losing out.