Scottish independence: Tory MP calls on the UK to show its love for Scotland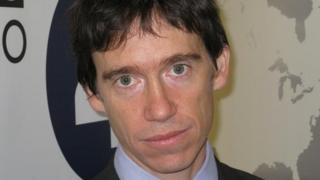 A Conservative MP has called for people in the UK to come together and show their love of Scotland to keep it in the union.
Rory Stewart called on people to form a human chain along Hadrian's Wall in a gesture of love and respect.
During a Commons debate on "Scotland's place in the UK", Mr Stewart said it should not simply be about economics.
Meanwhile, SNP MP Pete Wishart said independence would "ignite a tsunami of energy, creativity and imagination".
Many MPs from the cross-party group that signed the backbench motion stood up to support the union.
'Human expression'
On 18 September, voters in Scotland will be asked the "yes/no" question: "Should Scotland be an independent country?"
Mr Stewart, MP for Penrith and the Border, said: "What we need is the human expression.
"On July 19 this year I'm hoping that 100,000 people will gather along that old, foreign, Roman wall - English, Welsh, Irish, Scots, holding hands, linking arms across that border.
"Because in the end what matters is not the wall that divides us but the human ties that bind in the name of love."
Labour's William Bain opened the debate, imploring fellow Scots to "reject the false and binary choice some seek to make in this debate that people have to choose between Scottishness or Britishness".
Scottish Secretary Alistair Carmichael described the UK as "a union which has been built on shared effort, common endeavour and, yes, love".
He said he was soon to toast his wedding anniversary with his English-born wife and his "half-Scottish, half-English children".
'New nation'
SNP politicians on Twitter called the afternoon's proceedings "the #knowUrPlace debate".
Speaking in the debate, Mr Wishart said: "Our independence will release and ignite a tsunami of energy, creativity and imagination as we get down to the business of building and creating our new independent nation.
"A new nation according to our Scottish priorities, built on our sense of community, always securing the government that we vote for pursuing the agenda that we want."
He said he did not "like where the UK is going" and argued that Westminster legislation such as the Immigration Bill showed UK politics was becoming a "monstrous race to the bottom between this government and UKIP".
A "no" vote in referendum would "signal a contentment with Westminster rule and Westminster politicians' ability to deliver for Scotland", he argued.
You can watch the whole debate on the BBC's Democracy Live website.