Scottish independence: MoD accused of pressing firms to back pro-UK stance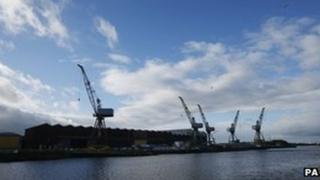 The Ministry of Defence has been accused of pressurising defence companies to warn against independence.
The SNP claimed senior defence executives were being pressed by UK ministers to publicly oppose a "yes" vote in the independence referendum.
It follows a report in the Financial Times in which a defence executive said there was "use of the dark arts".
The MoD said companies had a "duty" to explain the possible impact of independence on the industry.
SNP defence spokesman Angus Robertson described the claims as "damning" and demanded full disclosure from the UK government.
Key battleground
The future of Scotland's £1.8bn defence industry has become a key battleground in the independence debate.
The sector, which includes global companies such as BAE Systems, Raytheon, Thales and Babcock, supports up to 15,000 jobs.
The UK government claims thousands of jobs would be lost if Scotland votes to leave the UK.
The Scottish government, however, says cross-border contracts could continue in an independent Scotland.
On 18 September voters in Scotland will be asked the yes/no question: "Should Scotland be an independent country?"
'Dark arts'
One unnamed defence executive was quoted by the FT as saying UK officials were making "deft use of the dark arts" and that government ministers had been "quite energetically telling us, both openly and quietly, that it is important this information is out there."
Defence Minister Philip Dunne is also quoted in the piece as saying he would like to see the defence industry in Scotland being a "bit more upfront" in explaining its concerns to the workforce.
An MOD spokesman added: "Given that there are tens of thousands of MoD and defence industry jobs in Scotland that exist as part of the United Kingdom's defence footprint and manufacturing output, defence companies have a duty to explain the impact of potential independence on their workforce and families."
However, SNP MP Mr Robertson accused the UK government of being "secret and underhand" and demanded full disclosure over whether other industries were being approached in a similar way.
He said: "We need to know which ministers and officials are involved, and what exactly they are doing and saying to exert this pressure.
"We also need to know the extent to which this is happening across other sectors of the economy, and the SNP will be tabling a series of freedom of information requests and parliamentary questions at Westminster to get full disclosure of this secret and underhand activity.
"Independence will offer great opportunities for companies in all sectors and it is to the credit of the companies involved here that they appear to have resisted the pressure they were put under by Westminster ministers."
The FT report is the latest in a series of articles in the newspaper analysing Scottish independence.