'Slow progress' on elderly care reforms in Scotland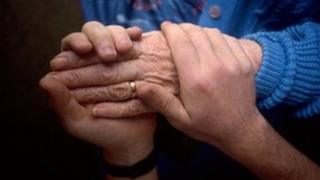 A major Scottish government programme to reform elderly care has made slow progress, a spending watchdog has said.
Audit Scotland's claims come three years into a 10 year project to improve services for people aged 65 and over, and supported by £300m over four years.
It said more needed to be done to shift resources away from hospitals and care homes to community-based services.
A government spokeswoman said the report did not fully reflect "excellent work happening in local communities".
Audit Scotland called for more funding to be focused on preventing or delaying ill health and supporting people to live in their own homes.
It said this funding increase was necessary due to government predictions that spending on health and social care for older people would need to rise from about £4.5bn in 2011/12 to nearly £8bn in 2031 - a figure which Audit Scotland said was not sustainable.
'Significant changes'
The programme is one of Scotland's biggest and most complex projects, involving NHS, local government, voluntary and private bodies.
But Audit Scotland said that, three years in, it was yet to demonstrate how "significant changes" would be achieved.
It said: "There is no clear national monitoring to show whether the policy is being implemented successfully and what impact it is having on older people.
"Strong national and local leadership is needed to take this challenging agenda forward."
The report went on to state that the Scottish government needed to work with its partners to clearly plan how resources will move from institutions into the community. It said better understanding was needed on why activity and spending on services for older people varied across Scotland.
'Growing pressures'
Auditor General for Scotland Caroline Gardner said: "While there has been progress, particularly in bringing bodies together, change has been slow.
"Our report makes recommendations aimed at helping accelerate change, particularly given the growing pressure on services and the integration of health and social care.
"In particular, we want to see better information for making decisions and assessing impact, and the government and its partners to be clearer about how to move resources from institutions, like hospitals, to community-based services."
A Scottish government spokeswoman said the Integration of Adult Health and Social Care Bill, which would bring the two services together, would "focus on improving anticipatory care for people in communities and help to reduce inappropriate use of acute and institutional care".
She added: "Local partnerships are already developing robust systems for assessing progress locally and are using this information to help inform how they commission services in the future."
Labour MSP Hugh Henry, convener of Holyrood's Public Audit Committee, said: "As £4.5bn of public money was spent on care for the elderly in 2011/12, the Public Audit Committee will want to know why there hasn't been more significant progress in improving the care of older people when it hears from the Auditor General for Scotland at its meeting on February 19."