Scottish independence: Vince Cable claims RBS would 'inevitably' move to London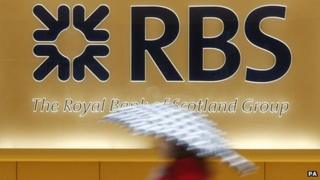 RBS would "inevitably" move its headquarters to London if Scotland votes for independence, UK Business Secretary Vince Cable has claimed.
Mr Cable told a committee of MPs that the bank would want to be based where it was "protected against the risk of collapse".
RBS was bailed out by UK taxpayers in 2008 following the financial crash.
A spokesman for Scottish Finance Secretary John Swinney called the comments "ridiculous".
The UK Parliament's Business, Innovation and Skills Committee questioned Mr Cable on the implications for business of Scottish independence, ahead of September's referendum.
Voters in Scotland will be asked the "yes/no" question: "Should Scotland be an independent country?"
William Bain, Labour MP for Glasgow North East, asked the business secretary what RBS might do if the Bank of England was no longer its "lender of last resort".
Mr Cable said: "I think if you were managing RBS you would almost certainly want to be in a domicile where your bank is protected against the risk of collapse.
"I think they already have a substantial amount of their management in London and I would have thought that inevitably they would become a London bank."
In 2008, the UK government bailed out RBS with £46bn of public funds. The move left taxpayers owning around 80% of RBS, which was founded in Edinburgh in 1727.
The business secretary also disputed any proposed currency union between an independent Scotland and the rest of the UK, a week after Bank of England governor Mark Carney said an independent Scotland may have to cede some sovereignty in order to make it work.
Mr Cable argued: "The logic of what the governor and other people have spelled out is that the problems of a currency union with an independent Scotland are so difficult, so tricky, that it would almost certainly prove to be in Scotland's interests - and indeed the rest of the UK - that Scotland did have its own currency."
But Mr Swinney's spokesman said: "Vince Cable's ridiculous comments are at odds with the common sense remarks from RBS's chief executive, who last week said that if they had to operate in 39 countries around the world rather than 38, that is exactly what they would do.
"Mr Cable has unwittingly highlighted exactly why polls show the vast majority of people in the rest of the UK would expect the Westminster government to agree to a currency union with Scotland.
"The pound is as much Scotland's as it is the rest of the UK's, and the Fiscal Commission Working Group, with experts including two Nobel Laureates, have concluded that it's in the interests of both Scotland and the UK to continue to retain sterling in a formal monetary union.
"As Scotland is the UK's second largest trading market, it would be absurd for Vince Cable or anyone else at Westminster to stand in the way of protecting the benefits this brings to businesses and consumers in the rest of the UK."
In its White Paper on independence, the Scottish government said an independent Scotland would have its own financial regulator and compensation schemes, and would continue to protect bank customers.