Scotland's referendum: Lib Dems refresh home rule option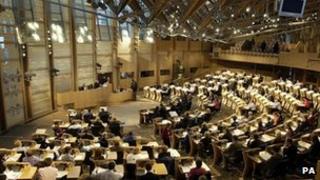 Scottish Lib Dem leader Willie Rennie said his party has refreshed its "hundred year old commitment to home rule all round".
In speech to the David Hume Institute, Mr Rennie said the Liberal Democrats thought federalism within the UK was the best option.
He said this would mean powers for the Scottish Parliament and any other UK region that wants them.
Mr Rennie framed the Liberal Democrats as the "party of in".
Former UK Lib Dem leader Sir Menzies Campbell has been chairing the party's constitutional commission.
He presented the case for "home rule" in a 2012 report titled Federalism - the best future for Scotland.
Mr Rennie's speech set out Sir Menzies' latest attempt to harness "the emerging consensus for building a stronger Scotland within the UK" if Scotland says no to independence.
The people of Scotland will vote on their country's future on 18 September this year.
They will be asked the "yes/no" question: "Should Scotland be an independent country?"
The Liberal Democrats have already said they want additional powers for Holyrood, including greater control over personal and corporate taxation.
SNP MSP Linda Fabiani, a member of the Scottish Parliament's Referendum Bill Committee, said the Liberals had been "talking about their ideas for over 100 years".