MSPs to examine blue badge proposals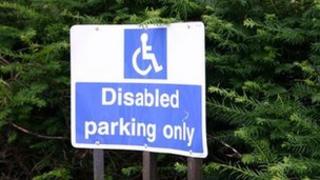 A Holyrood committee is to examine proposals aimed at tackling the misuse of disabled parking badges.
A Members' Bill designed to strengthen enforcement of the blue badge scheme will be examined by the Local Government and Regeneration Committee.
The scheme provides parking concessions for people with restricted mobility who have difficulty using public transport.
Disability groups have claimed that misuse of the blue badges was widespread.
Introduced by Dennis Robertson MSP in December, the Disabled Persons' Parking Badges (Scotland) Bill is intended to give local authorities the power to cancel badges which have been reported lost or stolen and confiscate badges that are being misused.
Misuse of a blue badge is already an offence, but enforcement powers currently lie with the police.
Kevin Stewart MSP, who will chair the committee, said: "The misuse of the blue badge scheme can have a major impact on the lives of those who rely on the ability to use disabled parking spaces to access the everyday services that most of us take for granted.
"We want to hear from people about the impact such misuse has on their lives and whether the Bill before us will make a difference."
He added: "Measures such as confiscating and cancelling badges might appear extreme and we will look carefully at the proposals before us to see if they really will have the desired effect of deterring misuse."
The committee has issued a public call for evidence on the issue.