Church officials express 'deep concern' over same-sex marriage bill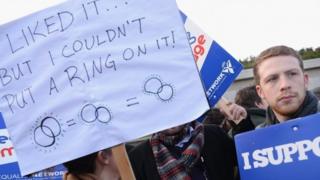 More than 50 church ministers and officials have written to the Scottish government to express "deep concern" over a planned law allowing same-sex marriage.
The church figures want safeguards for workers in the public sector who oppose changes to the existing marriage laws.
They have appealed to Health Secretary Alex Neil to amend the bill at its next parliamentary stage.
The Scottish Parliament will next debate the bill on Tuesday.
The letter to Mr Neil is backed by ministers, pastors and elders from congregations across Scotland, and asks: "Will people working in the public sector who express the view that marriage can only ever be between a man and a woman be disciplined, or even have their suitability for employment questioned, on the basis that their views are deemed incompatible with their employer's commitment to equality and diversity?
"Likewise, will young Christians seeking employment in professions such as teaching or the police, find themselves at a disadvantage in the recruitment process should they express their opposition to same-sex marriage?
"In the policy memorandum accompanying the bill, it states that the Scottish government respects the current view of marriage. We would urge the government to have the courage of its convictions and to explicitly state on the face of the bill that this view is indeed worthy of respect."
Charitable status
The signatories of the letter say they are also worried about the impact on organisations and, in particular, on the church's charitable status.
They continue: "We are greatly concerned that following any change in the law some public bodies might refuse to enter into any partnerships or arrangements with a church which publicly states its opposition to same-sex marriage.
"We would therefore ask that the Scottish government amends existing charity law so as to specify that holding or expressing the view that marriage is only between a man and a woman cannot be cited as a 'disbenefit' when administering the charity test.
"We would also support a clear principle of reasonable accommodation in ensuring churches and religious charities that are explicitly opposed to same-sex marriage can continue to openly provide services with public bodies, and to likewise make use of public facilities."
The Marriage and Civil Partnership (Scotland) Bill is due to return to the Scottish Parliament on Tuesday for the final stage of consideration.
Stage 3 is the final opportunity for MSPs to amend a bill before it goes for royal assent.
Under the legislation, religious and belief bodies would "opt in" to perform same-sex marriages.
Amendments rejected
Last year the Scottish Parliament's equal opportunities committee rejected amendments from SNP MSPs John Mason and Richard Lyle, calling for protection of expression of belief in marriage between persons of different sex.
Mr Neil has argued that such amendments are unnecessary as there was nothing in the bill to stop the expression of belief in different sex marriage.
The Equality Network, which campaigns for lesbian, gay, bisexual and transgender rights, said: "Thirty-four years after Scotland decriminalised homosexuality in 1980, the Scottish Parliament will have the historic chance to remove this last major piece of sexual orientation discrimination from Scots law and secure legal equality for lesbian, gay and bisexual people."
Gay marriage ceremonies could take place by the start of 2015 if the legislation is passed.
The final debate on the Marriage and Civil Partnership Bill can be viewed live, or on demand, at BBC Scotland's Democracy Live website.