'Public backs' child car smoking ban, says MSP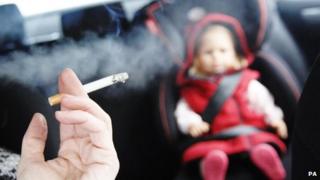 Most Scots would back a ban on smoking in cars when children are present, according to a survey by an MSP.
Lib Dem Jim Hume wants to introduce a members bill at the Scottish Parliament which would bring in a ban, and is calling for MSPs to back his plans.
The South of Scotland MSP said the public response to his consultation showed an appetite for the legislation.
The position puts him at odds with the Deputy Prime Minister Nick Clegg, who said enforcing a ban would not work.
Mr Hume said the majority of the 161 responses to his consultation showed public backed the crackdown.
He said: "Many of the charities, individuals and health professionals who have backed my proposals recognise that this is about giving children the best start in life.
"It doesn't seem fair that a child should be cooped up in a smoke-filled car during the school run.
"Those children cannot change their means of transport, let alone take steps to immediately remove themselves from the uncomfortable confines of a smoke-filled car."
Mr Hume lodged draft proposals for a bill in May last year calling for a ban in Scotland on smoking in private vehicles while a child under 16 is present.
Motorists could potentially be fined £60 for breaching the rule.
The consultation responses were split among 88 sent to Mr Hume and 73 completed through an online survey by the British Heart Foundation.
It showed 75% supported the plan, rising to 84% when the survey was included.
'Rare problem'
Some concern was raised about how officers would be able to identify the age of passengers and the age of the offender. Police would have to look out for cigarettes and children, alongside seatbelts and mobile phones.
The Tobacco Manufacturers' Association and smokers' lobby group Forest said the plan was a disproportionate response to a relatively rare problem.
Labour wants to establish UK government powers to make smoking with children in the car an offence. The move could become law because of suggestions that MPs will be given a free vote on the issue when the Children and Families Bill returns to the Commons.
But the moves clashes with Lib Dem leader Nick Clegg. The Deputy Prime Minister, speaking on LBC 97.3 radio's Call Clegg show, said: "I don't personally think that it is going to work to pass a law.
"I am quite an old-fashioned liberal and I think you shouldn't legislate unless you think it is going to make a difference, and I don't see how this is going to be enforced."