Scottish independence: Former Scottish secretary warns of 'hostile divorce'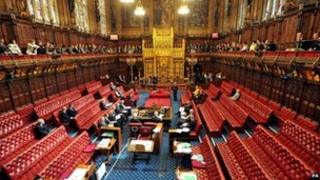 The prospect of Scottish independence risked looking like an "increasingly hostile divorce", a former secretary of state for Scotland has claimed.
Opening a House of Lords debate in light of the independence referendum in September, Lord Lang said breaking up the UK would be a "trauma".
The Scottish government dismissed his remarks as "scaremongering", saying independence would bring prosperity.
More than 40 peers from all parties in the Lords lined up to defend the Union.
When voters in Scotland go to the polls they will be asked the "yes/no" question: "Should Scotland be an independent country?"
Lord Lang, who was secretary of state for Scotland from 1990-95, said the independence debate had so far been "deeply introspective" but was a matter for the whole UK.
He argued that if there was a majority of "yes" votes in September, "an historic partnership of peoples would seem to be crumbling and Britain's international prestige and influence would crumble with it".
He added: "Our standing in the Commonwealth would change, our standing in Europe, Nato, the UN, the World Bank, the World Trade Organisation would also change".
Lord Lang believed the UK was a "magnificent success story" and called for a "new unionism".
Ahead of the debate, he told BBC Radio's Good Morning Scotland programme that more "barriers and tax regimes" after independence would "cost jobs in Scotland".
'Scaremongering'
A spokesperson for Scottish Finance Secretary John Swinney said: "This is exactly the same Tory scaremongering we heard from Lord Lang and his colleagues before the devolution referendum in the 1990s.
"They were wrong then and they are wrong now.
"The reality is that independence will give Scotland the powers we need to create jobs, attract investment and build a more prosperous and fairer society."
Other speakers included Labour former First Minister Jack McConnell, who said devolution had been "good for Scotland."
Lord McConnell added that the choice in September should be "between an independent Scotland and a reformed United Kingdom" with a "strong, devolved, autonomous" Scottish Parliament.
Former Scottish Conservative leader Annabel Goldie, making her maiden speech in Westminster's upper house, called for the support of "fellow unionists" in the rest of the UK.
Former Nato secretary general and UK Defence Secretary Lord Robertson said: "We are not as Scots discriminated against, we are not disadvantaged inside this union.
"In fact, Scotland is the second most prosperous part of the United Kingdom after the south east of England."
SNP MP Angus MacNeil described the Lords debate as "a series of agreements between an unelected privileged few".
He added: "The poverty and inequality blighting our nation seemed not to bother any of them, as it was not even raised."