Scottish independence: Economists reveal their Carney questions
The governor of the Bank of England, Mark Carney, was in Edinburgh where he addressed the Scottish Council for Development and Industry.
Ahead of the speech, he met Scotland's First Minister Alex Salmond.
It was thought the pair discussed the hot topic of whether an independent Scotland would continue to use sterling as part of a currency union.
Here, two Scottish economic experts, Jo Armstrong and John McLaren, tell the BBC news website what they would have been asking Mr Carney, not only on currency, but interest rates and fiscal powers too.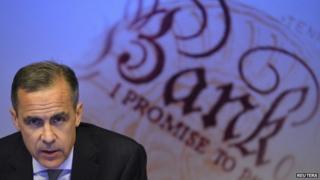 "When Mark Carney and Alex Salmond meet on Wednesday they will have plenty to discuss.
"The most obvious topic of conversation will be how a shared sterling currency zone might work post-independence.
"This topic has been pored over by commentators in recent months and the basic questions still to be answered are clear:
"They include;
to what degree might Scottish fiscal policy be constrained by Rest of the UK fiscal policy?
how will monetary policy in general, and interest rates in particular, be set?
how will the lender of last resort work?
"Of course there will be no concrete answers given to these questions.
"They will ultimately depend on political negotiations and decisions, given that, while independent from the UK government, the Bank of England's remit is set by that government.
"But Alex Salmond may want to explore the different options for how things might work in the future.
"Much of the discussion will be of equal relevance whether Scotland remains part of the UK or not.
"Mr Carney's previous job, as head of the Canadian Central Bank, should interest the first minister.
"There, when setting interest rates, he had to take into account the economic conditions of very diverse provinces, ranging from rural Newfoundland, to the cities of Montreal and Toronto, and on to the oil boom province of Alberta.
"Did the greater fiscal powers of these provinces, compared to UK regions, help or hinder in managing the economy and in allowing for more balanced country-wide growth?
"In the past, such a discussion may have revolved around how to better gear monetary conditions for an under-performing Scotland. Now the reverse may be true.
Financial sector
"At 6.4%, Scottish unemployment is well below the UK's (7.1%). What are the implications for Scottish growth, inflation and productivity of moving from a laggard to a leading UK region?
"Canadian monetary policy decision-making is also very information-intensive and collaborative.
"There may, therefore, be an opportunity for greater Scottish input to the process. As one of the stronger regional economies at present, should Scotland have a greater say in whether it wants interest rates to rise to offset any incipient inflationary pressures?
"Finally, post the latest RBS revelation, the FM might be seeking some tips on the financial sector regulation set up in Canada that allowed it to weather the 2007-08 crisis better than most countries."