Extent of benefit error 'unclear', Margaret Burgess says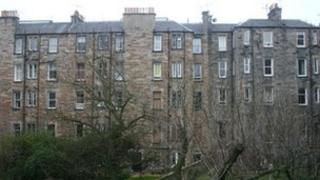 The Scottish government has demanded to know how many "vulnerable people" in Scotland have incorrectly lost out because of housing benefit reforms.
It has emerged that thousands of social housing tenants in the UK will receive money back after the spare-room subsidy rule was wrongly applied to them.
Welfare Minister Margaret Burgess, who met UK officials, said the extent of the error was still unclear.
The Department of Work and Pensions (DWP) believes the policy is fair.
A spokeswoman said that despite the benefit change, dubbed the bedroom tax by opponents, the DWP "still pay the majority of most claimants' rent".
Ms Burgess met Lord Freud, the UK government's minister for welfare reform, in London.
She asked for an explanation on why some renters had to pay more, despite a rule which said that because they had lived in the same home for more than 17 years they were exempt.
After the meeting, she said: "After meeting with Lord Freud I am very disappointed that the true extent of the Department of Work and Pensions (DWP) error still remains unclear.
"It is completely unacceptable that the minister was unable to give transparent answers on how many people in Scotland have been affected.
"I would now encourage anyone who is concerned that they have been wrongly charged by DWP to contact their local authority as soon as possible."
She added: "I will be meeting local government colleagues this week to make sure that everything possible is being done to reach people in their areas who have been wrongfully charged the Bedroom Tax in the hope that vulnerable people do not suffer from any more added stress.
"Westminster's welfare reforms have yet again let down those who are most in need."
Housing experts believe that 40,000 UK claimants could be affected, but the DWP stressed it believed a maximum of 5,000 tenants were likely to have been caught up.
'Not affordable'
Scottish ministers have committed £20m in the 2014-15 Budget Bill to support those affected by the so-called bedroom tax.
A DWP spokeswoman said: "The removal of the spare room subsidy is necessary to return fairness to housing benefit and we have given councils in Scotland over £13m in 2013/14 to support vulnerable people who need extra help through our reform.
"Even after the policy change we still pay the majority of most claimants' rent, but it's simply not affordable to pay housing benefit for people to have spare rooms."
Meanwhile, Holyrood's welfare reform committee has been considering a petition on the issue.
It was lodged in October last year on behalf of the No2BedroomTax Campaign and calls on the Scottish Parliament to urge the Scottish government to make about £50m available "to mitigate all effects of the bedroom tax in Scotland".
Petitioner Alan Wyllie from the campaign group told MSPs he believes the parliament should fully mitigate the impact of the reform and "protect tenants against unworkable and outright nasty politics".