Scottish independence: Campaigners clash on young voters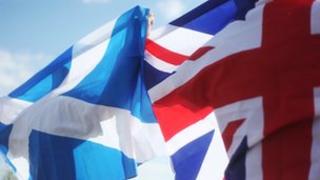 Politicians have clashed over young voter's views on Scottish independence.
Speaking on the BBC's Sunday Politics Scotland, Labour's shadow foreign secretary Douglas Alexander said "pragmatic" young people recognised the value of the Union.
SNP MSP Marco Biagi said they were responding to a positive message from independence supporters.
Their comments came as an ICM poll indicated young voters are likely to vote Yes in the referendum.
The poll, which was commissioned by the Scotland on Sunday newspaper, suggested that 44% of voters in the 16-24 age group intend to vote Yes, with 33% intending to vote No.
There were 74 respondents in this age group polled.
Voters in Scotland decide on their country's future when they go to the polls on Thursday, 18 September.
They will be asked the straight "yes/no" question: "Should Scotland be an independent country?"
Voting intentions
Mr Alexander told the BBC programme that young voters were comfortable with the multiple identities of being Scottish, British and European.
He said: "They, like many of us, are pragmatic.
"In the modern world, where we are interconnected in a way unimaginable even a generation ago, actually you don't have to choose between being Scottish, or Scottish and British, or Scottish, British and European."
Mr Biagi argued that the trend was for more young people to accept the case for independence.
He said: "Young people want to see people that will talk about what Scotland can do, what we can achieve.
"Young people can see the No campaign as a bit like one of those teachers that tells you, that just dwells on what you can't do."
Among all age groups, the ICM poll claimed that 37% of voters intend to vote Yes; 44% intend to vote No; 19% said they were undecided.
The poll was conducted by ICM between January 21 and 24, surveying over 1,000 people over the age of 16.