Scottish independence: House of Lords commission to examine Yes vote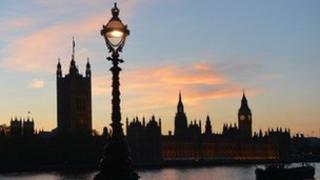 A new inquiry into the implications of Scottish independence has been launched by peers in the House of Lords.
The Lords Constitution Committee has invited submissions from "interested parties" in the run up to the referendum on 18 September.
Peers will consider a number of issues, including whether the Scottish government's proposed timetable in the event of a Yes vote is realistic.
The impact of independence on Scottish MPs will also be examined.
Voters in the referendum will be asked a single yes/no question: "Should Scotland be an independent country?"
The committee will also consider who would carry out negotiations on behalf of the rest of the UK if Scotland becomes independent, and what impact the 2015 UK general election could have on talks.
Other issues including what legislation Westminster may have to pass to enable Scotland to become an independent state will also be looked at.
'Significant impact'
Baroness Jay of Paddington, the committee's chairman, said: "If Scottish voters vote Yes in September, it will clearly have a significant constitutional impact on the rest of the UK.
"It is important ahead of the referendum that voters are fully informed about the possible implications of the vote."
The committee is now calling for written evidence as part of its investigation.
"We are keen to receive a range of views in this inquiry and invite interested parties to make a submission," added Baroness Jay.