Falkirk row: Police say 'no evidence of criminality' in Unite emails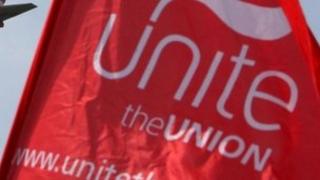 Police have found "no evidence of any criminality" in emails sent by a former Grangemouth union convener.
Stevie Deans, who was a full time Unite official at the petrochemicals complex, had been accused of being involved in vote-rigging in Falkirk.
He was later cleared by an internal investigation by the Labour Party.
The Unite union, which called the complaints "vexatious", said it had been vindicated in consistently saying that no wrongdoing had taken place.
Mr Deans left his job at the Grangemouth oil refinery last year and decided not to seek re-election as chairman of Labour's constituency party in Falkirk.
The Falkirk seat is held by Eric Joyce, who resigned from the Labour party and now represents the constituency as an independent.
Labour's selection process for next year's general election has been mired in controversy, with allegations that Unite members had been signed up to the Falkirk Labour Party to ensure the union's favoured candidate was selected.
In September, Labour said it had cleared the Unite union of trying to rig the selection process.
It said the decision was made after "key evidence" was "withdrawn".
But in November, The Sunday Times newspaper said it had seen 1,000 emails to and from Mr Deans, which it said revealed the full extent of the plot to influence selection of the candidate.
Its story also included extracts of the internal Labour report in which Labour officials said there were "deliberate attempts to frustrate" interviews with some of the key witnesses.
Police Scotland, which earlier this year dropped an investigation into the Falkirk allegations, was called in to study the emails, which were passed on by Mr Deans's employer Ineos.
A spokesperson for Ineos, which operates the huge Grangemouth oil refinery and petrochemicals plant, said: "The Ineos investigation of Mr Deans was related to the misuse of Ineos procedures and systems.
"Mr Deans resigned prior to the final stage of the disciplinary process. The email cache was referred to the police and the information commissioner based on legal advice to protect the company."
A spokesman for the force said: "Following information received alleging misconduct by a member of staff at the Grangemouth refinery, a Police Scotland enquiry was undertaken.
"This enquiry has now concluded and there is no evidence of any criminality."
Unite general secretary Len McCluskey said: "Unite has been vindicated in consistently saying that no wrongdoing or criminality has taken place and welcome Police Scotland's conclusion.
"It is shameful that the police's time has been wasted by vexatious complaints and their attentions diverted from catching real criminals and solving real crimes."
He added: "Stevie Deans is a decent and honourable man who has been smeared and hounded with a callous disregard for him and his family by those who should know better.
"The anti-union hysteria whipped up by certain sections of the media and their friends to pursue a spiteful agenda has been shocking. Their witch-hunt has been exposed to be without foundation."