MSPs approve lending Burrell Collection art overseas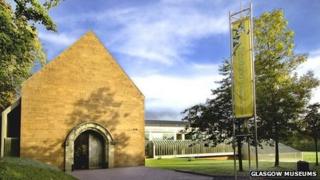 MSPs have voted to allow artwork from the Burrell Collection to be shown overseas.
Sir William Burrell gifted his collection of more than 8,000 works of art to the city of Glasgow in 1944, on the condition that they were not loaned abroad.
A move to abandon the restriction was backed by Culture Secretary Fiona Hyslop and Glasgow City Council.
Lending would require the agreement of the Sir William Burrell Trust.
Shipping entrepreneur Sir William Burrell, who died in 1958, amassed a collection of paintings, sculptures, tapestries, ceramics and stained glass.
The collection is on display in Glasgow's Pollok Country Park, and covers medieval and early Renaissance Europe, as well as important examples of Chinese and Islamic art.
However, the building housing the collection is in need of renovation, and Glasgow City Council wants to allow items to be loaned overseas while the refurbishment takes place.
The Burrell Collection (Lending and Borrowing) (Scotland) (Bill) also allows externally-borrowed items to be displayed alongside artwork from the collection.
Sir William apparently feared the items would be damaged in transit.
In November, the bill gained the backing of a Scottish Parliament committee, which decided it was time for the works to "be seen by a wider audience".
Ms Hyslop said changing the law would "bring the collection to the attention of an international audience and enable people from all over the world to see and appreciate it, thus raising its profile and putting Glasgow and Scotland on an international stage".
Councillor Archie Graham, the Depute Leader of Glasgow City Council and Chair of Glasgow Life, said: "This marks the beginning of a new chapter for the Burrell Collection. We now have the opportunity to share some of Sir William's outstanding vision with an international audience for the first time.
"Glasgow is Scotland's cultural powerhouse and The Burrell Collection is undoubtedly the jewel in our crown."
Mr Graham added: "While we take forward proposals to fully refurbish and redisplay the gallery in Pollok Park, we will be able to share some of these treasures with the world and increase the international reputation not only of Sir William's great gift, but of the city he called home."
Sir Angus Grossart, Chairman of Burrell Renaissance, said: "We are delighted with this formal confirmation and with the strong support which we have received in the great challenge which we have set."