Scottish independence: clash on Scots EU future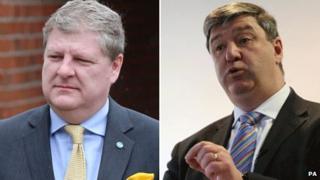 The Scottish and UK governments have again clashed over Scotland's status in the EU under independence.
Scottish Secretary Alistair Carmichael said the SNP government's vision was a "mirage", during a speech in Brussels.
Meanwhile, SNP Westminster leader Angus Robertson, who was speaking in Dublin, said the coalition was the real threat to EU membership.
The comments came ahead of the Scottish independence referendum, being held on 18 September.
The Scottish government has argued that an independent Scotland's EU membership would be negotiated "from within" in the period of time between a Yes vote in the referendum and its planned "independence day", in March 2016.
But UK ministers said talks could be lengthy, and have argued that, under independence, Scotland would be financially worse off as an EU member.
Mr Carmichael told the Centre for European Policy Studies that Scotland benefitted from being part of the UK in terms of trade, agriculture and fisheries, adding: "The Scottish government want people to believe that they have a vision, in fact what they proffer is a mirage."
He said of the proposed timescale: "This would be a negotiation of record-breaking speed to obtain extraordinary terms.
"Little wonder that experts like Professor Adam Tomkins - Chair of Public Law at Glasgow University and David Crawley - a former representative of the Scottish Government in Brussels - have said that such a timetable is simply not realistic."
Meanwhile Mr Robertson, who spoke at the Institute for International and European Affairs, said an independent Scotland would play a full part in the EU, Nato, the UN and the World Trade Organization.
He added that UK government's EU membership referendum, proposed for 2017, was the real risk to Scotland's status in the EU.
Mr Robertson said: "We will be able to promote a bigger role for the British-Irish Council that brings together the home nations, work constructively within the European Union and join our Northern European neighbours to fully address the challenges and opportunity of our region.
"Scotland will be a trusted security partner for our allies, play a full role in the Commonwealth, properly fulfil our international development responsibilities and we have an ambition to fully support peace and reconciliation efforts around the world."
He continued: "This contrasts with an ever growing parochial anti-European agenda at Westminster.
"Sadly politics at a UK level is massively influenced by the anti-immigration, europhobic agenda of UKIP and large swathes of the Tory Party, which is almost entirely absent in Scotland."
The referendum will ask voters the yes/no question: "Should Scotland be an independent country?"