Scottish independence: Vladimir Putin says referendum 'a domestic issue'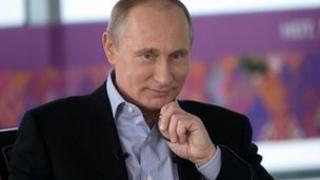 The president of Russia has said the Scottish independence debate is a domestic matter for the United Kingdom and not one for his country.
In an interview with the BBC's Andrew Marr Show, Vladimir Putin said everyone had a right to self-determination.
But he said being part of a single, strong state had "some advantages".
Earlier this week, Downing Street denied reports that it had tried to encourage Russia to oppose Scottish independence.
Mr Putin was asked if he had any message for UK Prime Minister David Cameron ahead of the referendum, which will be held on 18 September.
The president responded: "It's not a matter for Russia - it's a domestic issue for the United Kingdom.
"Any people has a right to self-determination and now in Europe the process of diluting national sovereignty in the framework of a united Europe is more accepted.
"But I believe one should not forget that being part of a single, strong state has some advantages and one should not overlook this.
"But it's a choice for each and every people, according to their own circumstances."
Marr put it to the president that he might invite Scotland to join Russia's new customs union.
Mr Putin smiled and replied: "I wouldn't rule that out".
Last week, the Sunday Herald newspaper quoted the Russian state news agency, Itar-Tass, as saying in a report issued on Hogmanay: "Great Britain is extremely interested in the support of Russia, as holder of the G8 presidency, in two vital areas in 2014: the Afghan pull-out and the Scottish independence referendum."
The agency cited an anonymous source in the office of Mr Cameron as the basis of its report.
'No approach'
A Downing Street spokesman responded: "We don't recognise these claims. The prime minister has been clear on many occasions that this is a decision for people in Scotland to take.
"There has been no approach to the Russian government for help in the independence referendum and there won't be one.
"Any suggestion the UK government have asked President Putin to help win hearts and minds in the referendum is ­ridiculous."
Scottish First Minister Alex Salmond said, if the news agency's report was accurate, then: "Westminster has been caught red-handed trying to stir up hostility to Scotland instead of representing Scotland's interests".