Scottish independence: Hague and Alexander in indy EU warning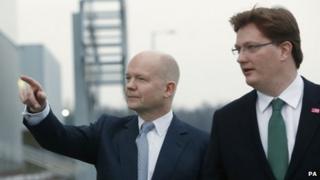 An independent Scotland within Europe would be up to £3.8bn worse off, the UK government has claimed.
The comments came as Foreign Secretary William Hague and Chief Secretary to the Treasury Danny Alexander put the case for the Union in Glasgow.
They said an independent Scotland would no longer get financial benefits like the EU rebate, worth about £3bn a year.
Scottish ministers said the UK government's in/out EU referendum was the real risk to membership.
Publishing the latest in a series of UK government papers ahead of the Scottish independence referendum on 18 September, Mr Alexander said Scotland would also get less money from the EU structural fund programme and through Europe's Common Agricultural Policy (Cap).
Mr Alexander said, under the most optimistic case, Scotland would be £1.9bn worse off as an independent member of the EU between 2014-20, but could rise to £3.8bn.
He added the Cap payments could increase by £850m, but added that the worst case scenario would see them drop by more than £1bn.
The Treasury chief also said it would be "inconceivable" for an independent Scotland to get an EU rebate, as it would require a change in the rules to be approved by all EU member states.
"The bottom line is this - Scotland outside of the UK would have to negotiate its own way back into the European Union, and as such its terms of membership would be entirely different to those we currently enjoy," said Mr Alexander.
Meanwhile, Mr Hague said it was not reasonable for the Scottish government to expect a "seamless transition" to becoming an EU member state under independence.
The Scottish government has argued that an independent Scotland's EU membership would be negotiated "from within" in the period of time between a Yes vote in the referendum and its planned "independence day", in March 2016.
The foreign secretary, said: "I've been in a lot of European negotiations and, in all my experience, they take much longer than anybody ever forecasts, and here you are talking about negotiations with these huge issues that Scotland doesn't want to join the euro - but that is the rule for new members.
"I've never seen anything of that complexity resolved in 18 months - it takes years and years for new member states to be able to negotiate membership of the European Union normally."
UKIP 'fear'
Mr Hague said being in the UK gave Scotland the "opportunity to do more good in the world" and to "exert an influence on global politics or economies".
But Scotland's deputy first minister, Nicola Sturgeon, said the UK government's EU membership referendum, proposed for 2017, posed the only real risk to Scotland's status in the EU.
She said the move was "driven by a fear of UKIP which does not exist in Scotland".
Ms Sturgeon said Scotland, now more than ever, needed its own voice in Europe, adding: "We know Westminster governments have treated the Scottish fishing industry as expendable in previous EU negotiations and they have also ensured Scotland receives the lowest farm payments of any country in the EU.
"The fact is, Scotland would receive £850m more in farm payments if we were an independent member of the EU.
"Nothing we propose changes the material conditions of any other member state - while they are so certain of complete success in their own ill-advised re-negotiations with the EU over proposals that will fundamentally change the provisions of treaties on which the entire EU, and its single market, rests."