Scottish independence: Bank of England boss Carney hopes for constructive talks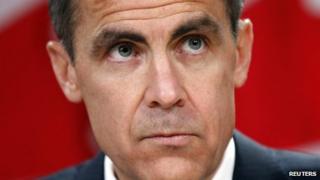 The governor of the Bank of England has said he hopes to have "constructive" discussions with Scottish ministers when he visits Scotland.
Mark Carney confirmed the talks during evidence to the Treasury Select Committee at Westminster.
The Scottish government has said it would keep the pound if the country voted for independence on 18 September.
However, the UK government said it viewed a sterling currency union as "unlikely."
Mr Carney, who is due to make a speech in Scotland later this month, told the committee's MPs: "Our offices are working to arrange a meeting and I very much look forward to that opportunity.
"That effort has been ongoing and there is certainly the will on both sides to have a constructive discussion."
The prospect of discussions comes a few days after the Treasury pledged to honour all UK government debt up to the potential date of Scottish independence.