Scottish independence: White Paper 'a mirage', says Alistair Carmichael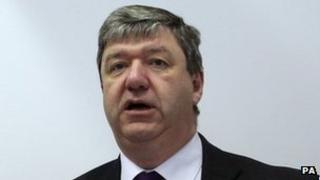 The Scottish government's White Paper on independence is a "mirage", according to the Scottish secretary.
Alistair Carmichael used a speech in Stirling to highlight the "shared values, shared effort, shared achievements" of the UK.
But he also warned the current devolution settlement was "unbalanced", and called for more tax-raising powers for the Scottish Parliament.
The Scottish government has published 50 questions for the No campaign.
Speaking at Stirling University, UK government minister Mr Carmichael said Scotland benefited greatly from being part of the UK, claiming cheaper mortgages, safer banks and better pensions were among the gains.
He said public spending was "consistently 10% higher than the UK average", and highlighted the BBC and NHS as UK institutions that "bind together our family in pride and endeavour".
During the speech, Mr Carmichael attacked the independence blueprint, and accused Nationalists of being "skittish and evasive".
He said: "The Nationalists like to assert that they have a vision for an independent Scotland and that their White Paper is its articulation.
"It is not. This is not a vision, it is a mirage. Like all mirages, the closer you get the less real it becomes.
"In every sense, it simply does not add up," he added.
Further devolution
Scotland will vote in a referendum on independence on 18 September, with voters being asked the yes/no question: "Should Scotland be an independent country?"
Though he dismissed the case for independence, Mr Carmichael said the current political settlement was "unbalanced", adding that Holyrood should have greater tax-raising powers.
He said further devolution was "necessary to complete the project that we started with the Scotland Act in 1998".
"It is perhaps the law of unintended consequences coming to play here, and the fact that you can only do these things incrementally, we have produced a politics which is unbalanced, which speaks about how you spend money but not about how you raise it," he added.
"In order to make Donald Dewar's vision from the late 1990s complete, to make it work as it ought to work as I believe it can work, then I think we have to give the Scottish Parliament extra powers, especially on tax-raising."
'Crunch questions'
Deputy First Minister Nicola Sturgeon responded to Mr Carmichael by publishing 50 questions which she said those leading the anti-independence campaign must answer about the consequences of voting No in the referendum.
Ms Sturgeon said: "Last week, the chancellor announced plans for a further £25bn of public spending cuts - including huge additional cuts to welfare - which brings into even sharper relief the prospects for Scotland under the Westminster system should there be a No vote in September.
"The Scottish government has published a detailed, 670-page guide to an independent Scotland, including answers to 650 questions.
"In the interests of a fair, balanced and fully-informed debate, it is essential that there is an equivalent amount of detail from those arguing for a No vote.
"Those leading the anti-independence campaign have a responsibility to answer the crunch questions such as by how much will Scotland's budget be cut if there is a No vote, will the UK remain in the European Union, and how much more of Scotland's money would be wasted on Trident nuclear weapons that we neither want not need?
"These issues and many more highlight why it is essential that we achieve a Yes vote in September."