The Men Who Own Scotland: Land reform on 'radical journey'
MSPs will fail the people of Scotland if they do not reduce the dominance of large, traditional sporting estates, according to the Scottish environment minister.
Paul Wheelhouse told BBC Scotland he believes the country needs a fairer distribution of land.
He said the Scottish Parliament was "on a journey" towards radical reform.
He said: "I doubt anyone would design a system where you ended up with only 432 people owning half the private land."
He added: "I wouldn't design a system where you ended up with such a concentration of wealth and ownership in such a small group."
But major landowners have defended their record, arguing their contribution to the economy of rural Scotland is ignored by politically-motivated land reform campaigners.
Douglas McAdam, chief executive of Scottish Land and Estates, said: "A recent survey of a cross section of our membership revealed their combined investment plans in rural development projects are in excess of £820m. Our very conservative estimate is that across the membership, that figure would be well in excess of £1bn.
"We will continue to put forward progressive proposals to government on land reform that will make a difference to Scottish rural life, rather than focus on out-of-date arguments."
The issue of land reform in Scotland is explored in a television documentary to be broadcast on BBC1 Scotland on Wednesday night.
John Mackenzie, from Gairloch, owns 53,000 acres in the Highlands. In the programme he is asked whether he believes the concentration of land ownership in Scotland is "fair".
He replied: "It may not be fair, but is it fair that your wife may be prettier than mine? That you win the lottery when I don't? It's a concern stirred up, as far as I can see by those with axes to grind."
Another big landowner warns that any move to break up sporting estates would threaten the rural economy which, he says, relies on landowners with "deep pockets".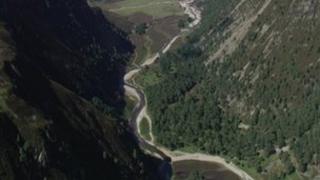 Community aspirations
Christopher Moran, of the Cabrach and Glenfiddich Estate, told the programme: "The sort of investment that's necessary to bring about sustainable regeneration is substantial.
"If you end up splitting up estates like this, where is that type of investment going to come from?"
But Paul Wheelhouse has insisted change is needed. He is due to receive a report from the Scottish government's Land Reform Review Group in April.
"My party genuinely believes that there should be a fair distribution of land," he said. "Communities should have access to land to fulfil their aspirations."
He added: "I think if we don't see a fairer distribution of land, then we in parliament will have failed the people of Scotland."
BBC Scotland Investigates: The Men Who Own Scotland will be broadcast at 2235 on BBC1 Scotland and will be available on the BBC iPlayer.