Scottish independence: Yes campaign 'more active' on Twitter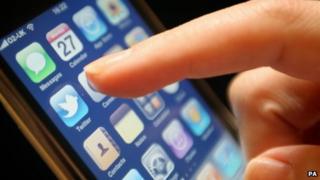 The pro-independence campaign has a "more active and spontaneous" network of tweeters than their "No" opponents, according to new research.
Researchers at the University of Glasgow mapped use of the hashtag #indyref to see how social media was utilised by each side of the debate.
Yes Scotland said social media played a pivotal role in disseminating its "positive" message.
Better Together said its online campaign reached "thousands" of people.
As well as analysing the volume, frequency and identity of tweets related to the independence referendum, researchers from the university's Policy Scotland hub also studied the nature of the issues being discussed and the direction of communication.
They will collate data and release a monthly snapshot from now until polling day on 18 September.
Voters will be asked the yes/no question: "Should Scotland be an independent country?"
The first snapshot of data, covering 13-19 December 2013, revealed more than 13,000 Twitter connections were made.
It also showed that many of the Twitter "conversations" taking place on the referendum were not channelled through the official campaigns.
'Connect with others'
Des McNulty, deputy director of Policy Scotland, said the high level of Twitter use showed how political campaigning had changed.
"Traditionally, campaigns were organised with military precision," he said. "Social media changes all that.
"With Twitter we can follow what politicians are saying over time, and ensure they are being consistent.
"But anyone can Tweet, and they use the medium to connect with others.
"No one has mapped it until now and we're very interested in seeing how this feeds into and influences the campaign over time."
Better Together's use of Twitter tended to be from top-down, Mr McNulty added.
"It's interesting that in this particular snapshot 'Yes' has been more active and spontaneous," he said.
"They use more tweets and hashtags, and have a bigger network of tweeters.
"'No' tweets are coming from the top down, and there is no real network amplifying the debate."
'Accessing voters'
Yes Scotland's head of digital Stewart Kirkpatrick said social media was vital for accessing voters directly.
He said the campaign had 28,000 Twitter followers, and was active on Facebook and YouTube.
He added: "Social media will continue to play a pivotal role in ensuring that we build the largest grass roots movement Scotland has ever seen.
"We know from our own polling that the more people are informed about independence, the more likely they are to vote Yes.
"Social media provides us with vital access to inform major sections of Scotland's voters."
A Better Together spokesperson said the group had a "huge" presence online.
He added: "Our campaign is reaching thousands of people every single day via our website, Twitter, Facebook and other means.
"However the referendum will be decided on the big economic questions about currency, pensions and whether we would be better off by going it alone, not how many likes either side can get on Facebook."