Tories secretly wanted to cut millions from Scottish budget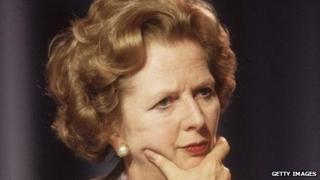 Details have emerged of attempts by ministers to make secret cuts to the Scottish budget during Margaret Thatcher's premiership.
Cabinet papers released under the 30-year rule show senior figures believed Scotland was over-funded by £900m.
John Redwood, then a Downing Street adviser, wanted cuts of £500m to Scotland's budget, the papers reveal.
Then Scottish Secretary George Younger opposed deep cuts, sparking a cabinet row.
The government documents from 1984, released by the National Archives, show an in-depth needs assessment study was proposed by the Treasury but rejected by Mrs Thatcher because of "real political dangers".
'Substantial overprovision'
Peter Rees, then the Chief Secretary to the Treasury, sent a memo to the Prime Minister in 1984, referring to a "substantial overprovision" in Scotland's block grant, which at the time was £6bn.
Mr Redwood, who went on to become the Welsh secretary in 1993, suggested that Mr Rees and Mrs Thatcher should "discuss how to broach the subject of the £900m overspend with the Secretary of State for Scotland, which could result in £0.5bn savings in due course".
Mrs Thatcher rejected this level of cuts, but in a memo her Private Secretary Andrew Turnbull said she felt "it would be better... to trim Scottish programmes as and when opportunity arose rather than through a very conspicuous exercise".
Mr Turnbull went on to head the civil service from 2002-05.
Another memo from Mr Turnbull said "great care" should be taken when handling the cuts, and "there should be no attempt to publicise the figures".
Mr Younger was not initially party to the discussions, but later came under pressure to make cuts in Scotland.
He eventually offered £30m in cuts over five years - £5m in 1985-86, £5m the following year and £20m in 1987-88.
'Astonished'
The Treasury later insisted on a further £36m in cuts for 1985-86, but made clear that the figures previously announced in the Autumn Statement would be unchanged "so minimising the risk that these adjustments will be 'visible'".
In a note to Mr Rees, Mr Younger said he was "astonished" at the request.
Later, in December 1984, he wrote to Mr Rees saying he was willing to "trim my programme by whatever figure I judged could be guaranteed to remain invisible to my critics in these matters".
Mr Younger won the battle, later announcing to parliament the £30m he initially proposed.
"I am simply not prepared to run the acute political risks of cutting my programme further by an arbitrary amount, which I would be unable to explain or defend," he said.
'Secret'
A spokesman for First Minister Alex Salmond said the revelations were "astonishing", adding that "things have not changed all that much".
He added: "Not only did Mrs Thatcher conspire to cut Scotland's grant, she made sure the plan was kept secret from Scottish voters.
"Today's Tories are ganging up with the other Westminster parties to scrap the Barnett Formula and replace it with a system that would reduce the money available to the Scottish government by £4bn a year."