Scots 'would pay more council tax'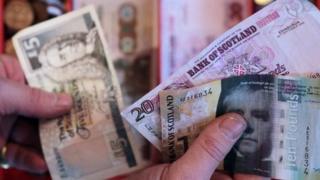 Most Scots would be prepared to pay more council tax if they thought it would mean better local services, according to a poll.
The research suggested two thirds of people would be willing to pay more if they could be guaranteed the money would be spend on local services.
The council tax has not increased since 2007 and the Scottish government hopes it will remain frozen until 2017.
Most councils anticipate they will have to continue to make cuts and savings.
The poll was carried out by Mori on behalf of a commission established by the council umbrella body Cosla.
The Commission on Strengthening Local Democracy was set up to look at possible ways of improving councils and local services after the independence referendum.
Local needs
Mori's findings also suggested 49% of people believe councils have enough money to deliver the services they think their community needs.
Eight in 10 respondents wanted more say in how services are run, while only one in every three said they felt part of how decisions are made.
There also appears to be support for the idea that councils in different parts of the country could have different responsibilities depending on local needs.
The council tax has been frozen since 2007 across Scotland while one council - Stirling - has actually reduced the local council tax.
Councils typically get about 80p of every pound they spend from the Scottish government. Most of the rest is from the council tax.
The current deal to freeze the council tax essentially operates like a carrot and stick.
Councils which freeze the tax receive a certain amount from the government - but would get less if they decided to put it up.
This means, in practice, that any rise would have to be well above inflation before it would ease the pressure on a council's finances.
The Scottish government argues it is protecting councils from the full impact of Westminster cuts and that the freeze has been a real help to family budgets in difficult times.
Critics counter that better off people have sometimes saved more money from the council tax freeze and been less likely to feel the impact of cuts to local services.
'Mature debate'
Speaking on behalf of the commission, Cosla president Councillor David O'Neill said: "This commission is all about starting a debate. When it was launched we said that we would listen to communities and that their views would be at the heart of all our work.
"This work undertaken by Mori is about getting to the heart of what the people of Scotland think matters, not the things that politicians tell them that matter.
"It is one part of our bigger commitment to ask some new questions about why doing things locally matters, and what stronger local democracy in Scotland might look like.
"For example, we've also seen hundreds of people from all walks of life, and from across Europe, come forward with ideas as part of our call for evidence. That is fantastic and shows that the issues the commission wants to hear about chime with what people in Scotland care about and want to talk about."
Mr O'Neill added: "Scotland has never tried anything like this before. We are breaking new ground by offering a mature and evidence based debate about the kind of democracy we want, regardless of the outcome of the referendum in September.
"As a collective, we want to deliver real change and we want to influence change elsewhere. It is only once we have finished collecting evidence that we will be able to draw any conclusions as a commission.
"But it is hugely encouraging that both our call for evidence and our polling work are already showing that right across the country there is a growing appetite for a serious discussion about why local services and local accountability matter and how we strengthen them in Scotland's future."
'Popular policy'
A Scottish government spokesman said: "The role of local government is critical in delivering a range of services that really matter to the people of Scotland.
"That's why the Scottish Government has fully funded the council tax freeze for the last six years, providing much needed financial relief to some of the vulnerable groups identified in this survey, such as pensioners.
"This fully-funded freeze is ensuring there no detrimental effect on the level of service provision, and there is a commitment to continue this for the lifetime of this parliament."
A spokesperson for Local Government Minister Derek Mackay added: "The council tax freeze is a popular policy, one which was in the SNP's manifesto, and which people voted for."
But Scottish Labour MSP Sarah Boyack said the poll showed a "clear rejection of the SNP's centralisation of local services".
She added: "The SNP's poor showing in council by elections shows people want their councils to be focused on protecting local services and supporting local employment rather than the cuts agenda imposed by the SNP and the Tories."
iberal Democrat MSP Alison McInnes said: "The results of the survey articulate what I and many Lib Dems have been saying for years - local decisions should be taken by those in the community for the benefits of the community.
"Local democracy needs to be strengthened, not undermined by successive SNP policies and their centralisation agenda.
"The merging of local forces to create Police Scotland has shown just how damaging such power grabs can be to local interests and priorities."
• Mori's results were based on a survey of 1,006 respondents (adults aged 16+) conducted by telephone between 29 November and 5 December 2013.
• Data weighted by: age, sex and working status using census data; tenure using SHS data; and public-private sector employment using Scottish Government Quarterly Public Sector Employment series data