Scottish independence: New year plea to referendum voters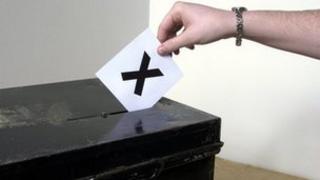 Campaigners from both sides of the debate on Scottish independence have issued new year messages urging the public to vote in the referendum.
Yes Scotland chief executive Blair Jenkins said the issue was "too big to be left to politicians alone".
Alistair Darling, leader of Better Together, called on everyone to vote so "the decision we make is decisive".
On the 18 September 2014, voters will be asked the yes/no question: "Should Scotland be an independent country?"
Children's future
Mr Darling reiterated his belief that "we are all stronger when we come together" and that "the people of this island belong together in the United Kingdom".
"First and foremost we should not divide Scotland," he said.
"One thing we all have in common, yes, no or undecided, is that we love Scotland and want the best for our children's future. We are all looking forward to an exciting year where we will cheer on our sports stars here in Scotland.
"There are patriots on both sides of this debate and we should respect each other for that.
"Whatever decision we make this referendum year it needs be decisive.
"It is important that we are certain of where we will stand in the future. No one wants this debate on independence to drag on into another year.
"That means all of us in Scotland should resolve to vote in September and to make sure that the decision we make is decisive."
Diverse views
Yes Scotland said the year ahead offered the chance to create a better future.
Mr Jenkins also made a reference to 2014 being an important sporting year for Scotland, with the Commonwealth Games in Glasgow and the Ryder Cup at Gleneagles.
As well as these events, he said the eyes of the world would be on Scotland as it made "the single most important decision in more than 300 years".
Mr Jenkins went on to highlight the "diversity of views, visions, background and cultures" of the Yes campaign.
"Among the many sectoral groups adding their weight to the Yes campaign are Polish for Yes, French for Yes, Third Sector Yes and Yes LGBT," he said.
He added: "Yes Scotland will ensure there is a sectoral group within the campaign for everyone. The debate on Scotland's future is too big to be left to politicians alone and we want everyone in the country to play their part in 2014."
Cost of living
Meanwhile, Ed Miliband used his new year message to criticise the SNP over the "cost of living crisis", which he said could be solved with Scotland as part of the United Kingdom.
The Labour leader said the SNP was not making a difference and had "sided with the Tories when it comes to Labour's energy price freeze".
He said: "But they are totally wrong, because the problem of higher energy bills is a problem in Southampton as well as in Stirling, the problem of payday lenders is a problem in Gloucester as well as in Glasgow, the problems of low pay is a problem in Essex as well as in Edinburgh.
"It goes across the United Kingdom, these are common problems. I think we can solve these problems with a common vision and a common future."
Social justice
However, SNP leader at Westminster Angus Robertson said the UK had become "more unequal" under Westminster governments.
"A Yes vote is the route to social justice, and Mr Miliband may not know it, but Labour have no credibility on cost of living issues in Scotland," he said.
"A quarter of their own Scottish MPs didn't even bother to turn up at Westminster to vote to scrap the bedroom tax, which we will in an independent Scotland."