Call over 'pay difference' between quango bosses and Scottish ministers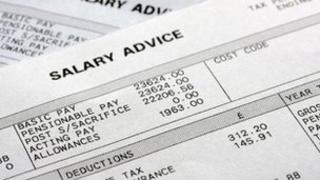 More than half the bosses of non governmental public bodies in Scotland are paid higher salaries than Scottish ministers, according to a think-tank.
Reform Scotland has looked at spending on chief executive salaries in quangos.
It has highlighted the difference in pay as part of a call to curb earnings and make the system more "transparent".
The Scottish government said it would look for further ways to simplify and streamline the public sector to reduce costs.
Reform Scotland, an independent, non-party think-tank, has released a "Quango Bulletin" in which it has collated information on the salaries of the bosses of 58 out of 72 organisations.
It has highlighted data which shows 19 chief executives earn as much or more than First Minister Alex Salmond - who is paid about £140,000 - and 39 have wages equal to or greater than a cabinet secretary.
'Lack of transparency'
The think-tank also said funding for quangos now amounts to almost £12bn, about one third of the Scottish government budget.
The research showed the chief of Scottish Enterprise earns about £200,000 - double that of Finance Secretary John Swinney.
The chief of every health body earns as much or more than Health Secretary Alex Neil who, like Mr Swinney, is on about £100,000.
The highest earning chief executive is at Scottish Water where the salary range reaches £240,000.
Alison Payne, research director for Reform Scotland, said: "It may well be the case that the salary for a particular chief executive is justified, although it is difficult to argue that any public sector salary should be higher than that of the person running Scotland: the first minister.
"However, the key problem is the use of quangos which are neither fully democratically accountable nor fully independent of government leading to a lack of transparency and accountability over their activities, including the level of salaries paid."
The think-tank has called for most quangos to be reintegrated into government departments, giving ministers accountability for decisions.
Ms Payne said: "Whilst there have been efforts made by the Scottish government to cut the number of quangos, they have failed because they have been piecemeal and focused on the wrong target.
"They have looked at the functions of the different bodies and tried to simplify or merge them to reduce waste and bureaucracy. This ignores the real problem. It is not what quangos do, but the way that they do it that is the fundamental problem.
"Scotland needs to end its love affair with quangos and build democratic accountability through transparency."
A Scottish government spokeswoman said: "The salaries of public sector staff are set in accordance with the Scottish government's pay policy, which has been subject to significant restraint in recent years and for which ministers are also accountable to parliament.
"Pay ranges are assigned in relation to the roles and responsibilities of the position and to support the recruitment and retention of staff.
"We expect all parts of the public sector to ensure their activities deliver maximum value for money and we are continuing to look for further opportunities to simplify and streamline the public sector landscape, to reduce costs and improve the quality and efficiency of our public services."
She added: "Since October 2007 the number of devolved public bodies has reduced from 199 to 113, exceeding the government's original target to reduce the number of devolved public bodies by 25%.
"Mergers alone have saved £78m, between 2007 and 2012-13, and further savings will be delivered on an annual recurring basis."