Scottish independence: Marking start of Scotland's year for decision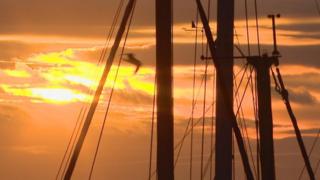 It is dawn and a stiff breeze is rattling the halyards on the masts in Arbroath Harbour.
The sound of yachts is a change for this little port. The slow death of the fishing industry has forced it to take on a new life as a marina.
But is Scotland as a whole about to take on a new life of its own?
For most of 2013 the signs from the mainstream polling companies were not encouraging for supporters of independence.
Most opinion surveys suggested a majority of voters would say no in September's referendum which will ask "Should Scotland be an independent country?"
But as the sun rises on 2014, is there a change in the air?
"We're entering the New Year with momentum," argues the deputy first minister Nicola Sturgeon, who describes 2014 as a "massive year" for Scotland.
"The only movement we saw in the polls at the tail end of last year was towards the yes campaign so that's a good place to start," she argues.
"I think this is going to be a year when the focus is very much on what Scotland can do, what we can achieve, not on what we can't achieve," says Ms Sturgeon, "and I think whichever side of the campaign captures that mood will be in pole position to win the referendum."
'Positive case'
Opponents of independence start the year with a different message.
Alistair Darling, the former Labour chancellor who leads the Better Together campaign, disputes the suggestion that the polls are shifting but he remains keen to guard against complacency.
"I think it's important this year to try and persuade those people who are still undecided, and there are a lot of them, that we're better and stronger together," says Mr Darling, who insists there is a "strong, positive case" to be made for the United Kingdom.
"At the same time, we've got to persuade those people who are... already convinced of our argument they cannot be complacent.
"I think this is going to be a lot closer than people think."
Mr Darling argues that a no vote would be good for business. In public though it is difficult to persuade many firms to state their view.
At the Mackays Jam factory on the outskirts of Arbroath, dark red strawberries are being poured into a giant copper pot, on their way to the bottling line.
The family who run this firm are typical: not keen to comment on independence itself.
The chairman, Paul Grant, says there will be jam tomorrow whether or not the union is preserved. But he wishes the referendum could happen sooner than September.
"We've all been a little bit concerned about how long it's taking to get to the vote," he says.
"Quite honestly that disruption hasn't been helpful in terms of building relationships, making investment decisions and deciding what the future of the company really is."
Scotland's birthplace
But will the past influence the nation's future?
Arbroath sits on the coast of Angus, a county which styles itself as Scotland's birthplace, dating the national nativity to the Declaration of Arbroath in 1320.
That document was an eloquent diplomatic letter asking Pope John XXII to recognise that Scotland was ruled not by Edward II of England but by Robert the Bruce.
At Arbroath Abbey, where the declaration is thought to have been drafted by Abbot Bernard, an English translation of the Latin text echoes off the sandstone.
"As long as but a hundred of us remain alive, never will we on any conditions be brought under English rule. It is in truth not for glory, nor riches, nor honours that we fight, but for freedom - for that alone which no honest man gives up but with life itself."
You might think this was stirring stuff for the Yes Scotland campaign.
But that is far from the case. The SNP in particular is keen to distance itself from Scotland's Wars of Independence, presenting its vision for the country as practical and modern. It is keen to reassure voters, whatever their ethnicity, and emphasise continuity within the British Isles.
Talk of Bruce and Wallace, of Arbroath and Bannockburn, may go down well with a core group of activists but it is frowned upon by the party's senior strategists who prefer to focus on the here and now.
An independent Scotland, they argue, would retain sterling and the monarchy. It would stay in Nato and the European Union.
'Complex relationship'
But even if that can all be achieved smoothly - and opponents argue that it cannot - is this really independence?
Prof James Mitchell, an Economic Social Research Council fellow at Edinburgh University, thinks it is. Just.
"What they now define as independence is very different from that of the past," he says.
"Today, what they call independence as outlined in the White Paper that came out at the end of last year could be described as more like a confederal arrangement within these isles."
Professor Mitchell says that ministers in the Scottish government would like to see "close working relations" with London after a yes vote.
"It's not a complete break," he says, "it's not separation as of old. It's a more complex relationship but they still insist on calling it independence."
And on September 18 the people of Scotland will have the chance to make their judgment on what it is and whether or not they want it.