Presiding officer Trica Marwick 'committed' to Holyrood reforms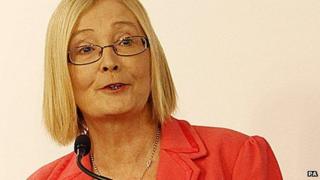 Parliamentary committee conveners should be elected by MSPs, Holyrood's presiding officer has said.
Having politicians vote for conveners would encourage members to be less party political, said Tricia Marwick MSP.
In an interview with The Herald newspaper, Ms Marwick said she was "absolutely committed" to reforms.
And she said she may restrict the time party leaders get to question Alex Salmond at First Minister's Questions.
In a wide-ranging interview, Ms Marwick, who described herself as "quite driven", also revealed that she had surgery in the summer to remove a tumour.
"This job of presiding officer is a job I never expected to do," she said.
"But I see the huge opportunities it brings to be able to shape the parliament and rebalance the parliament.
"It's a wonderful opportunity and I'm absolutely committed to make all the reforms necessary."
Party politics
While the role of presiding officer is decided by a secret ballot of MSPs, committee convenerships are determined by party politics.
Convenerships are allocated to each party and reflect the number of MSPs they have, with party whips then deciding which MSPs will be given the posts.
Ms Marwick said she will ask the standards, procedures and public appointments committee to look at the idea of MSPs electing conveners.
"I have long believed we should have elected conveners of the parliament," she said.
"I believe the responsibility of conveners of the parliament should be first and foremost to the parliament.
"How do you enshrine that? The only way to do that is to get the whole parliament to elect the conveners, so they derive their authority and mandate from the parliament itself and not through the parties.
"The very act of being elected by the whole parliament gives a message to the conveners and everybody else that the conveners are there primarily to act in the interests of the Parliament and not their own political party."
'Not working'
The proposal comes after a number of changes at Holyrood, including the introduction of topical questions for ministers.
She said she would continue to hold talks with party leaders and business managers in the new year about the length of time they are taking at First Minister's Questions.
The weekly question time session is "not working as it should be", she said.
She added: "It's unacceptable to me, it's unacceptable to backbenchers and, essentially, we have to get this sorted.
"What I don't want to do is go down the road of other jurisdictions and cut people off after 30 seconds or a minute and say 'this is it, your time is up'.
"That's not where I want to go but it's a place I could go if I don't see the kind of improvements I'm hoping for."
Meanwhile, Ms Marwick spoke of how she coped with having a bowel tumour removed at the end of June.
"You get on with it," she said. "I'm recuperating well. I'm exhausted but, like everyone else, I think its been a long, hard year."