Scottish independence: SNP vows to scrap marriage tax breaks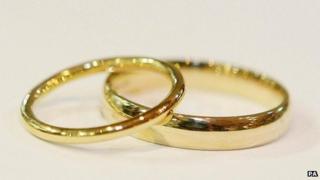 The SNP has confirmed it would scrap a planned tax break for married couples if it was elected to lead an independent Scotland.
The party claimed the UK government tax break discriminated again women.
The £700m plan, which comes into force in 2015, will allow lower earners to transfer up to a £1,000 of their unused tax allowance to their spouse.
The Free Church of Scotland accused the SNP of "cheap populism" and hiding behind "the guise of discrimination".
The SNP's blueprint for independence had indicated the tax change would be abolished.
The party has now said the focus should be on improving childcare.
It argued the tax break would overwhelmingly benefit men and leave bereaved and abused women out in the cold.
UK Prime Minister David Cameron said that he believed marriage should be recognised in the tax system.
SNP MP for Banff and Buchan, Dr Eilidh Whiteford, said: "UK government benefit cuts already mean that many women are struggling financially, and the £700m price tag could be better spent elsewhere.
"Even the Institute of Fiscal Studies has recognised that the Westminster policy is symbolic and would be of little benefit.
"Westminster's tax-breaks which only benefit the traditional nuclear family shows how out of touch the UK Government is."
'Out of touch'
Labour has also previously said Mr Cameron was "out of touch" if he thought the people would get married "for £3.85 a week".
The tax break would apply if couples were both basic rate tax payers with one spouse earning less than the personal allowance - the amount of income you can receive each year without having to pay tax on it. This will be just over £10,000 in 2015.
The Scottish government does not currently have the power to reverse the change as most tax powers are reserved to Westminster.
Reverend David Robertson, Free Church of Scotland minister in Dundee and director of the Solas Centre for Public Christianity, described the present-day "disintegration of the family" as "the great social and economic tragedy of our generation".
Mr Robertson said: "We appreciate and agree with the fact that better childcare provision is needed but the Scottish government are missing the point, which is that the best child care provision is made within the family.
"It is true that £200 is largely tokenism but instead of removing that, the SNP would have been better to have increased it."