Scottish independence: UK aid could fall by £1bn, say MPs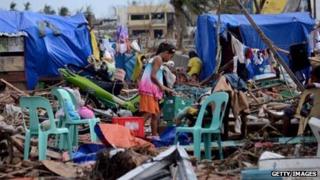 Aid from the UK could fall by £1bn if Scotland becomes independent, a Commons committee has claimed.
The MPs also said the UK government's Department of International Development's headquarters in East Kilbride would have to relocate.
International Development Committee chairman Sir Malcolm Bruce said Scotland would become a "small player".
But Scotland's aid minister Humza Yousaf said the country could have a "transformational" impact on aid.
He also gave an "absolute assurance" that continuity of employment would be preserved for those who chose to work for an independent Scotland's aid agency.
The Department for International Development (DfID) currently employs just under 50% of its staff - 553 people - in East Kilbride.
The UK government plans to spend 0.7% of gross national income on aid, but the Commons committee report said if Scotland left the UK following next year's referendum the gross national income of the rest of the UK would fall, leading to a drop in aid.
On 18 September next year, voters in Scotland will be asked the yes/no question: "Should Scotland be an independent country?"
The UK is expected to spend £12.2bn on aid in 2015-16, but this could be reduced by £1bn if there was a "Yes" vote, according to the MPs.
The report added that some parts of DfID's work could "be subject to cuts" as a result.
'Niche role'
Speaking on BBC Radio Scotland's Good Morning Scotland programme, Sir Malcolm, the Liberal Democrat MP for Gordon, said the UK's global influence was as important as the scale of budgets.
"By definition Scotland would be opting to be a small player, not at the top table, finding a niche role for itself," he said.
"Do we need another niche player when what we have is a very major player of which Scotland is a major part?"
The report claimed following independence DfID workers in East Kilbride were likely to "have to relocate or face redundancy", and Sir Malcolm said the value of the work done there could be lost.
"DfID would have to reorganise, it would lose part of its budget and would relocate its headquarters - it's not going to operate a government ministry in a foreign country - and Scotland would take years to build up its track record and expertise," he said.
The report noted that any transition could take up to five years, a time frame the SNP has described as "ample".
The Scottish government criticised the report, saying it was "simply wrong" to suggest that small countries could not have a "transformational" impact, and pointed out that the world's top three aid-giving countries were Denmark, Sweden and Norway.
'Transformational projects'
Also speaking on Good Morning Scotland, Scottish government minister Humza Yousaf said it should be noted that the committee was "made up entirely of MPs who oppose independence".
He added that Scotland's aid projects in places like Zambia, Malawi and India were already "transformational".
"Where people are looking for certainty, we can give certainty," he said.
The Scottish government's White Paper on independence gave an "absolute assurance" there would be continuity of employment for all staff based in Scotland post-independence, he added.
A spokeswoman for the Scottish government said: "We are pleased that the report welcomes our plans to enshrine the 0.7% UN aid pledge in law as a sign of our commitment to international development - which is a surprising admission given that the UK government have broken their own repeated promises to do just that.
"Noticeable by its absence in this report is the admission in one of the committee's previous reports that the UK government is already planning job cuts at East Kilbride."