Holyrood plans to snub 11% pay rise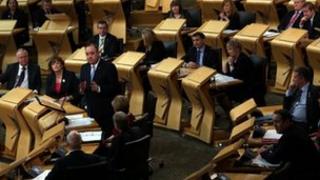 The Scottish Parliament's presiding officer has recommended cutting the formal link between MSPs' and MPs' pay.
The move is designed to avoid MSPs being given the same 11% wage rise as their Westminster counterparts.
The salary of MSPs has been linked to that of MPs since 2002, with politicians at Holyrood paid 87.5% of an MP's wage.
Recommendations due to be made later this week would raise an MP's pay by £7,600 to a basic salary of £74,000.
If no action was taken, that 11% rise would also apply at Holyrood.
But Presiding Officer Tricia Marwick said the prospect of a significant pay rise was "unthinkable" at a time when many members of the public were struggling to make ends meet.
Instead, plans will now be put to MSPs which would directly link their salary to public sector pay increases across Scotland.
She said the Scottish Parliamentary Corporate Body (SPCB) - which is responsible for the running of Holyrood - had recommended that the 1% pay rise for MSPs which had already been proposed for next year should not be changed.
And she also announced the SPCB was recommending future rises should be directly linked to pay increases in the public sector in Scotland.
MSPs are expected to debate the change and vote on it early next year, but the proposal already has the backing of all party leaders at Holyrood.
Mrs Marwick has now written to all MSPs explaining the pay proposal.
Pay and perks
She said: "It is unthinkable that a significant pay rise for MSPs could be agreed, particularly in the current economic climate when many of our constituents are struggling to make ends meet.
"The SPCB is therefore proposing that the current link with MPs' pay be broken and that instead we put future increases in MSPs' pay on an equal footing with those in the public sector in Scotland.
"It is incumbent on us to show leadership and restraint and to limit our increase in pay to the same level as the public sector. The SPCB appreciates the support of all the party leaders and will take steps at the appropriate time to make the recommendation to the parliament for approval."
The Independent Parliamentary Standards Authority (Ipsa) - the independent body given responsibility for Westminster pay and perks in the wake of the expenses scandal - is to propose boosting MPs' salaries by £7,600 to £74,000 after the 2015 general election.
The increase has already been condemned by many senior politicians.
Chief Secretary to the Treasury Danny Alexander said the public would find it "utterly incomprehensible" if Ipsa defied concerted calls from David Cameron, Ed Miliband and Nick Clegg to show pay restraint.
Scottish First Minister Alex Salmond has also said that the "the Scottish Parliament should not, and will not, follow Westminster on this".