Social problems 'need preventative cash', MSPs say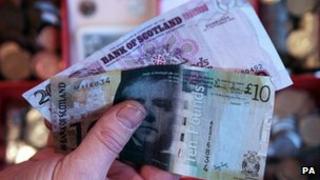 MSPs have questioned whether public bodies are doing enough now to help prevent social problems of the future.
They raised concern that organisations were making slow progress in moving spend towards a "preventative agenda".
The comments came in a report from the Scottish Parliament's cross-party finance committee.
Supporters of preventative spending say some money invested now, in services like healthcare, can save cash in the future by cutting chronic conditions.
The finance committee, which has been examining the Scottish government's proposed budget for the year ahead, issued its findings as MSPs prepared to vote on the spending plans for the first time, later this month.
Committee convener, SNP MSP Kenny Gibson, said: "In terms of preventative spend, we recognise it is a challenging fiscal environment and welcome the example set by Highland Council and NHS Highland where there is real evidence of the necessary cultural and structural change in the way public services are delivered.
"However, progress would appear to be much slower in other areas, which is why we have asked the government to identify the main barriers to realising change and what actions it is taking to address these."
The committee report said it would be difficult to see how preventative spending could be paid for without taking money from existing budgets.
But it added: "The committee asks whether the government is content with the progress being made by public bodies in carrying out the necessary disinvestment to unlock resources for a preventative approach.
"The committee also asks the government to provide examples of resources being unlocked for preventative measures through a disinvestment in existing services."