Scottish independence: Ministers quizzed on White Paper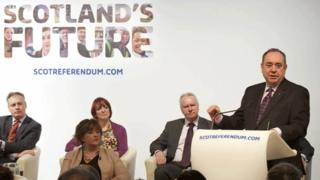 Representatives from a number of Scottish organisations quizzed First Minister Alex Salmond and his cabinet about their plans for independence.
Unions, businesses, voluntary organisations and public bodies were invited to the event in Edinburgh.
The panel was asked about taxation, the economy, poverty, human rights and a written constitution.
A Better Together spokesman said all questions should already have been answered by the White Paper.
The White Paper, titled Scotland's Future - Your Guide to an Independent Scotland, was published on 26 November.
Mr Salmond told the gathering that people from across Scotland would be given a similar opportunity to ask questions of the cabinet at a series of public meetings in the run up to next September's independence referendum.
Finance Secretary John Swinney told the audience simplification of the tax system would be key in an independent Scotland.
He said: "It's about making a fresh start. We don't have to follow the built up complexities of the UK system."
Asked about what level of debt an independent Scotland would take on following a "Yes" vote, he said Scotland would not "default" but added that assets and liabilities had to be considered together.
Ministers heard concerns that some answers to policy questions appeared to be made "on the hoof".
Ian McKay, from the Institute of Directors, said there was "increasing frustration" in the business community, particularly among those with a non-partisan view on the debate.
He added: "It seems to us that increasingly there are answers being made on the hoof to make policies up, or wish-lists that are appearing, that basically tell us when we ask questions that it will be okay when we have independence, or okay from the other side because the UK is a big country."
The cost of policies should be outlined in better detail, he said.
Welfare warning
Asked by chairman Iain Macwhirter why the Scottish government did not go ahead now with the ambitious extension of free childcare outlined in the White Paper, Mr Salmond said it was vital that the tax revenues came back to a Scottish rather than UK exchequer.
He added: "It's a social argument, and an argument about equality and human progress. But it's also an illustration that if you want to do such things, you have to control both sides of the balance sheet."
Elsewhere, Deputy First Minister Nicola Sturgeon was asked how an independent Scotland would tackle poverty.
She said: "What's happening to our welfare state is one of the biggest arguments for independence.
"If we don't get the "Yes" vote next year, then I don't think five years from now or 10 years from now we will have a welfare state in the UK that is recognisable to most of us."
She added that changes to welfare and childcare policies could only happen if voters in Scotland opted for independence in the referendum.
Voters will go to the polls on 18 September 2014, and will be asked the "yes/no" question: "Should Scotland be an independent country?"
Mr Salmond said the dates of further question and answer events would be announced in due course.
He added: "We want people to continue to talk about Scotland's future, and we want to take this conversation out to communities across Scotland. We want people to know the ways in which the powers of independence can be used to build a wealthier and fairer Scotland and ensure that everyone benefits from our natural wealth and talent."
He said the White Paper had received a "fantastic reception from the public", adding that he expected voter turnout in the referendum to be high. He said the White Paper had received 900,000 hits and been downloaded almost 50,000 times since its publication.
'Not convinced'
However a spokesman for the Better Together campaign, which opposes independence, said the White Paper was a "work of fiction".
He added: "We were told in advance that the White Paper would answer all of our questions about the consequences of independence, but it did nothing of the sort.
"Instead of facing up to the reality on currency, pensions, EU membership and more, what we got was more assertion from the SNP.
"It's little wonder that all the polling evidence since its publication shows that people aren't convinced by the White Paper."
Scottish Labour's finance spokesman Iain Gray added: "I don't think it's unreasonable for Scots to hold the SNP's woefully lacking financial plans to account and if John Swinney thinks he's provided enough detail to help people make a decision on which way to vote then I think he will be disappointed when it comes to polling day."
Scottish Liberal Democrat leader Willie Rennie said the public had "significant questions" about independence.
"Even though the White Paper is thick its answers are flimsy.
"Liberal Democrats are providing answers about our proposals for a constitutional future with our home rule plans, now it is time for the SNP to provide the answers on their plans."