PE in Scottish schools given £5.8m boost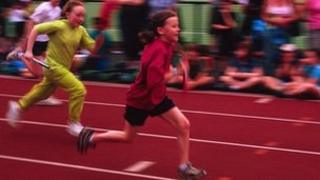 Physical education lessons in Scottish schools are to be improved with £5.8m from the Scottish government.
It is hoped the funds will help schools capitalise on pupils' enthusiasm for the Commonwealth Games and golf's Ryder Cup coming to Scotland next year.
The funding for 2014-16 supports the Scottish government's draft Youth Sport Strategy, which has been put out for consultation.
The Scottish Liberal Democrats said the funding was "long overdue".
Sport minister Shona Robison announced the extra funding at Blackness Primary School in Dundee.
She said: "We all recognise the importance of being physically active, and the Scottish government and local authorities have invested considerable resources to support this in early years, school, further and higher education and within the community.
"We know the power of sport to deliver better health and wellbeing for young people and this continued commitment to PE funding will help prepare young people to lead a fulfilling, active and healthy lifestyle."
The Scottish government's proposed Youth Sport Strategy aims to ensure high quality sports coaching, more competitive sport between schools, and the full involvement of disabled pupils in PE.
Mrs Robison said: "It is particularly important that the Youth Sport Strategy is for children and young people, by children and young people, and we will work closely with representative bodies to engage directly with them.
"Next year's Commonwealth Games present a unique opportunity to inspire children and young people and encourage participation in sport, and the final strategy and action plan can help achieve this."
'Watered down strategy'
Scottish Liberal Democrat education spokesperson, Liam McArthur, described the funding boost as "long overdue".
He said: "Six years on from the SNP's manifesto pledge to deliver more PE in schools we know that there remains significant variations in provision across the country.
"The previous ambition shown by the SNP appears to have been watered down in this strategy, with ministers having scrubbed the requirement for specialists to deliver PE classes to pupils.
"If we are to tackle obesity amongst young people effectively and create a Commonwealth Games legacy we can be proud of, the Scottish government must show ambition towards meeting their own targets in full and as quickly as possible."
Last year, the Scottish government and Cosla set a 2014 target to deliver at least two hours of PE in primary schools and at least two periods of PE in secondary schools for pupils S1-S4.
Latest statistics suggested 89% of all schools (88% of primary and 91% of secondary schools) were delivering the target.