Scottish independence: Graduate visa plans outlined by John Swinney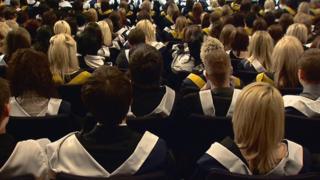 The finance secretary has highlighted plans for a post-study work visa to be introduced in an independent Scotland.
John Swinney said the plans would encourage international students to remain in Scotland following their studies and contribute to the economy.
The plan was initially detailed in the Scottish government's White Paper which was published on 26 November.
A Better Together spokesman said the plan "isn't credible".
The plans would replace the UK government's post-study work route which was closed following 2012 immigration reforms.
Mr Swinney said: "There are more than 30,000 international students from every corner of the world studying in Scotland, bringing important investment, diversity and welcome expertise.
"It is estimated that every 1,000 additional graduates working in Scotland could boost the economy by £10m and support around 200 jobs.
"It is absurd that talented individuals are instead being discouraged from coming to Scotland. It's an out-of-date approach that is not fit for a modern country.
"Immigration policies decided in Westminster simply do not fit Scotland's needs - and they are hampering our ability to develop a thriving economy. We need to take steps to boost our working age population- not measures that stop people from contributing."
'Not credible'
The graduate visa plans are among other policies outlined in the White Paper, including free hours of childcare and controlled immigration strategies.
In response to Mr Swinney's proposals, a Better Together spokesman said: "The nationalists want to have their cake and eat it on immigration.
"The idea that an independent Scotland can have a vastly different immigration policy from the rest of the UK without the need for border controls simply isn't credible.
"The SNP must be honest about the implications of separation for immigration and border controls."