Peter Howson art features on Alex Salmond's Christmas card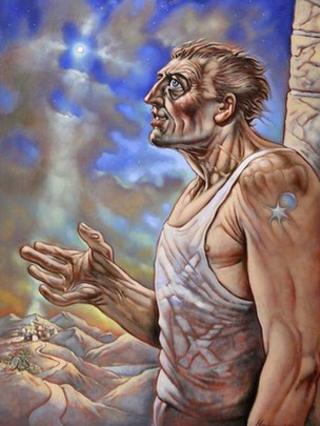 A depiction of the legendary fourth wise man, by contemporary artist Peter Howson, will feature on Scottish First Minister Alex Salmond's Christmas card.
It tells the story of Artaban, who arrived in Bethlehem too late to celebrate the birth of Christ.
Mr Salmond said: "Artaban it is a hugely appropriate work for my 2013 Christmas card."
The artwork, which shows Artaban following the star to the holy town, will be auctioned for charity.
The legend of the fourth wise man, based on an 1895 novel by American author Henry van Dyke, tells the story of a Persian scholar who, delayed by helping the vulnerable, followed the star to Bethlehem but arrived just too late to herald the birth of Jesus.
Thirty years on, Artaban, who had become an old man, was still searching for Jesus when he saved a young girl from slavery.
In a dying vision, he was comforted that his devotion to the distressed secured him entrance heaven.
Mr Salmond said: "The story reminds us that hope, faith and self-sacrifice are at the centre of the order of things."
The first minister added: "I am very grateful to Peter for donating this outstanding painting. As you might expect, it's a typically powerful image - unmistakeably Howson."
Mr Howson's original work will be sold at auction in the New Year, with the proceeds shared between the Children's Hospice Association Scotland, cancer organisation CLIC Sargent, Scottish Catholic International Aid Fund and veterans mental health charity Combat Stress.
Each charity will also be given a series of limited edition prints to help their own fundraising efforts.
Mr Salmond's charity Christmas card initiative has so far raised more than £148,000 for good causes through sales of original works and limited edition prints.
Previous artists to have contributed work include John Lowrie Morrison, John Bellany, Gerard Burns, Jack Vettriano, Alasdair Gray and Dame Elizabeth Blackadder.