Grangemouth dispute: Police Scotland to 'look into' Unite protests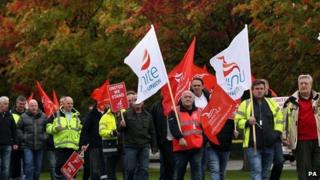 Scotland's chief constable is "looking into" protests staged by the Unite union at the homes of Grangemouth refinery bosses.
Conservative MP Priti Patel wrote to Police Scotland asking them to investigate the protests, which are part of the union's "leverage" strategy.
During the protests, groups of Unite members took a giant inflatable rat to the homes of some bosses.
The union has defended the tactics.
In a letter to Ms Patel, Police Scotland said Sir Stephen House, the chief constable, would respond "in due course".
A sailing club in Hampshire where Grangemouth owner Jim Ratcliffe is a member was also targeted by protestors, as well as a hotel he owns and a restaurant he has invested in.
Ms Patel has asked police in Hampshire to investigate those claims.
A spokesman for Unite said the union had no comment to make on the Police Scotland investigation.
Inquiry
Earlier this month, the UK government launched an inquiry into union tactics in the wake of the Grangemouth dispute, which almost led to the closure of the site's petrochemical plant.
Unite has defended its use of so-called leverage tactics, where managers are directly targeted as part of a protest, and argued that bad employers should have "nowhere to hide".
Cabinet Office minister Francis Maude said such tactics had no place in industrial relations, but denied the parliamentary inquiry, which will examine whether the law needs to be tightened to prevent "intimidation" and "harassment", was politically motivated.
The union has refused to co-operate with the inquiry, calling it a "Tory stunt".
Scotland's First Minister Alex Salmond said the inquiry was "almost entirely about seeking electoral advantage".