Scottish independence: The road and miles to Dundee's decision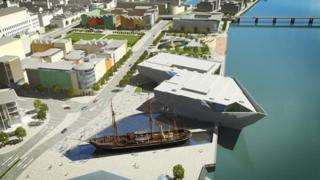 As every schoolchild in Dundee knows, the city made its name in jute, jam and journalism.
And amid the rocking of the looms and the rolling of the presses, radical politics flourished and socialism thrived.
Today though this old Labour city is a Scottish National Party stronghold.
And the din of the mills and the factories has been replaced by another noise.
Above the silver sandbanks of the Firth of Tay, mechanical monsters are perched on mounds of rubble.
The yellow and orange diggers and cranes swivel and peck as they reshape the waterfront, carving out new civic spaces and clearing the way for a £45m museum.
Passionately engaged
There is an optimism here which campaigners for a Yes vote want to tap into, to persuade people to support independence not out of a sense of fear but out of a sense of hope.
In a physics laboratory in the University of Dundee, the students certainly seem hopeful about the future.
They are brimming with energy and ideas, passionately engaged in the independence debate.
Lynsey Henderson, 17, in her first year of a degree in physics and renewable energy, plans to spend the Christmas holidays reading the Scottish government's white paper.
She says she is swaying towards a "Yes" vote but wants to use her head as well as her heart before making a final decision.
"I think at the start when there were first whispers of a referendum, a lot of people thought: "Oh I'm Scottish, I'm going to say yeah, I'm going to fight for my country, I'm going to be patriotic,'" she says.
"But I think people are thinking about it a lot more practically."
Michael Taylor, 25, who is also reading physics, thinks nationality must have at least some part to play in a debate about Scotland acquiring full control of its own affairs.
"People aren't going to trade away a 300 year old partnership just for the price of an iPad," he says "so it's got to be about bigger things than that."
Cultural argument
Overall though the attitude of the students does not resemble the so-called "Braveheart nationalism" of the 1990s. For them the issue of identity appears to be secondary.
Nasir Ahmad, 20, a fourth year physicist, describes himself as Scottish first and British second. He wouldn't think of one without the other, he says. But will this shape his vote in next September's referendum?
"No. It won't, if I'm honest," says Mr Ahmad.
"I'm going to consider voting based solely on the arguments for and against it because I wouldn't say that the future of Scotland really depends on how I feel about being Scottish.
"It depends on what's best for Scotland."
Graeme Morton, a professor of modern history at the University of Dundee, agrees.
"The cultural argument is basically done and dusted," he says.
"People know Scotland is a nation. People outside of Scotland know Scotland is a nation. It's now coming down to issues of how you want that nation to be governed."
A short hop across town a coach load of tourists from the north west of England are visiting Dundee's most famous icon, Captain Scott's ship, the Discovery.
At the bow, the union flag waves in the breeze.
The visitors approve.
"This is an island," says Ken Carlisle from Oldham, Lancashire, "and it's our island. Not mine. Not yours. Ours."
Mr Carlisle says he would be "rather disappointed" if Scotland voted for independence. His wife Barbara agrees.
"I think you both need each other," she says.
Joan Cody from Manchester is more blunt.
"I don't think your country's big enough to go independent," she tells me.
"If we have to start messing about with passports and you have a different currency you might as well go to Spain," she says.
And if there are no border posts and Scotland keeps the pound, as the Scottish government hopes to do? Well then, asks Mrs Cody, what's the point?
National identity
This is something that vexes one of the city's best known politicians.
John McAllion was a Labour MP for Dundee from 1987 to 2001 and an MSP from 1999 to 2003. In a way he embodies the city's journey towards nationalism.
For Mr McAllion, the SNP's vision - and in particular its plan to retain sterling with the Bank of England as a lender of last resort - is not radical enough.
"We're not being asked to vote for an SNP government," he says, "we're being asked to vote for an independent Scotland."
Mr McAllion has made the journey to a Yes vote not because he supports the SNP but because he sees it as the only way to secure a socialist state.
Scotland can only achieve a future "very different from the neoliberal country that Britain has become," he argues, by taking matters "under our own control and into our own hands".
So national identity may be waning as an issue in Scottish politics but there are still plenty of other things to argue about.
The road and the miles to Dundee's decision could yet hold a few surprises.