Scottish independence: Radical Independence holds Glasgow conference.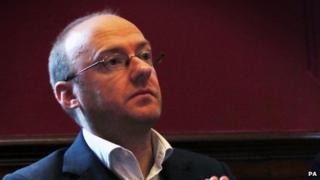 Radical voices have an important role to play in the forthcoming independence referendum, according to the co-convener of the Scottish Greens.
Patrick Harvie said "transformational ideas" could help persuade undecided voters to back independence.
He was speaking ahead of a Radical Independence Campaign (RIC) conference in Glasgow.
Better Together, the pro-Union campaign, described RIC as "the true face of independence".
Radical Independence supports a left-wing vision of an independent Scotland.
The conference, in Glasgow, was due to feature speakers and workshops on issues such as industrial relations, poverty, defence and the green agenda.
As well as Mr Harvie, speakers scheduled to appear included Yes Scotland chairman Dennis Canavan, human rights lawyer Aamer Anwar, Scottish Socialist Party spokesman Colin Fox, actor David Hayman and youth activist Cat Boyd.
'Passionate campaigners'
The Scottish independence referendum will take place on 18 September 2014, with voters being asked the yes/no question: "Should Scotland be an independent country?"
The Scottish government will publish a White Paper on its plans for an independent Scotland on Tuesday.
Mr Harvie said: "This conference brings together many of the most passionate campaigners for social progress in Scotland.
"They will be crucial in the referendum because they bring the transformational ideas our society so urgently needs, which can give the idea of independence real purpose for voters yet to be convinced.
"The referendum isn't just about making decisions in Edinburgh instead of London, it's about changing society for the better.
"The conference will be addressing the key questions - what kind of country do we want Scotland to be, and what policies are really going to make our society fair, sustainable and democratic."
A spokesman for the pro-Union campaign Better Together said: "Unlike Alex Salmond's vision for independence, at least the radical members of the 'Yes' campaign admit that taxes would have to go up and we wouldn't keep the pound in a separate Scotland.
"This is the true face of the independence movement."