Scottish independence: Alistair Carmichael issues complacency warning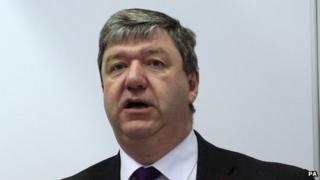 The Scottish secretary has warned the cabinet not to be complacent over the result of the independence referendum.
Alistair Carmichael highlighted the number of undecided voters and said the pro-Union campaign could lose the vote next year.
He also warned that the legacy of Margaret Thatcher's policies could play a part in voters' decision-making.
The Yes Scotland campaign said Mr Carmichael's comments showed there was "all to play for".
The independence referendum takes place on 18 September 2014, with voters in Scotland being asked the yes/no question: "Should Scotland be an independent country?"
The Scottish government will publish a White Paper on its plans for an independent Scotland next Tuesday.
In an interview with the Guardian newspaper, Mr Carmichael, who is the Liberal Democrat MP for Orkney and Shetland, said: "I am convinced that this is a fight that can still be lost… winning with a 49-51 split actually resolves nothing.
"Do not assume we will get the 51% - we could end up with the 49%."
'Folk memory'
Mr Carmichael, one of the leaders of the pro-Union Better Together Campaign, briefed cabinet colleagues earlier this week.
He warned them that former Labour voters from the central belt who had switched to the SNP could be open to voting "Yes", while others would be engaged in the referendum despite never having voted before.
He told the Guardian that there were undecided former Labour voters in "the urban post-industrial belt of Scotland" - places like Glasgow, Fife, Lanarkshire and Ayrshire.
"They have a folk memory. They remember Margaret Thatcher and the de-industrialisation of Scotland in the 1980s," he said.
"They were not overly impressed by 13 years of Labour government and as a result their loyalty to Labour has loosened. They went lock, stock and barrel to the nationalists in 2011.
"There may be one million people likely to vote that have never voted before; they have not been reached by conventional politics."
In the same interview, the Scottish secretary attacked First Minister Alex Salmond's plans to continue using sterling following a "Yes" vote.
On Thursday Finance Secretary John Swinney said it made "eminent economic and practical sense" for an independent Scotland to remain in a currency union with the rest of UK, after Welsh First Minister Carwyn Jones warned he would veto any such "sterling zone".
'Fear tactics'
Mr Carmichael told the Guardian: "The only way you can insist on a currency union is to remain part of the UK.
"George Osborne and Ed Balls have both said that a currency union is highly unlikely.
"We know from our friends in the eurozone that a currency union is difficult to make work. So the first question to Alex Salmond is: if you do not get a currency union what is plan B?"
A spokesman for Yes Scotland said: "We are confident from the indications we are getting on the streets, in public meetings and on the doorsteps that more and more people in Scotland are turning to a 'Yes' vote for an independent Scotland in next year's referendum.
"With polls showing that many people are yet to make up their minds on the referendum, there is clearly all to play for in the months ahead.
"With his warning to the Westminster cabinet, perhaps Alistair Carmichael has at last realised that the No campaign's Project Fear tactics are simply not resonating with people in Scotland."