Scottish independence: Pensions clarity needed, says report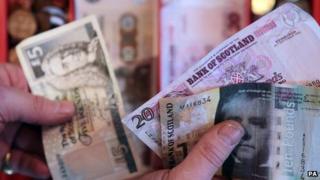 Independence would have "substantial implications" for pensions, according to a new report.
The National Association of Pension Funds (NAPF) said pensions would be more costly and warned some schemes may have to close if Scotland left the UK.
The NAPF said unanswered questions remained and it called on the Scottish and UK governments to provide clarity.
Finance Secretary John Swinney insisted pensions would be "fully protected" in an independent Scotland.
The pro-Union campaign group Better Together said the report, Scottish independence: the implications for pensions, was a "devastating indictment" of the SNP's pensions plans.
In September, a Scottish government paper laid out plans for pensions in the event of a "Yes" vote in next September's independence referendum, and suggested that Scots could get their pensions earlier than those in other parts of the UK.
The paper said a new single-tier state pension would be up-rated and protected by the 'triple-lock', whichever is higher from earnings growth, inflation or 2.5%.
'Lack of clarity'
However, the NAPF report said any new "cross-border" schemes would need to be fully-funded at all times, which could be costly and lead to the closure of defined benefit schemes.
It said there was a "lack of clarity" on how any transition would be managed, and that any changes to the tax regime could cost employers more, and lead to more expensive pensions for scheme members.
The report also questioned how any regulatory system for pensions in an independent Scotland would work and said more information was needed about how the proposed introduction of a new 'single-tier' state pension would affect employers.
Speaking in Edinburgh, NAPF chairman Ruston Smith said: "We're asking both UK and Scottish governments to clarify their views on independence well ahead of the referendum.
"Simply saying 'we'll cross that bridge when we come to it' just won't be enough for pension funds where scheme changes have major implications - and major costs."
Labour MP Gregg McClymont, the party's shadow pensions minister, said: "This is a devastating indictment of the SNP's failure to provide credible and costed answers about the implications of separation on pensions in Scotland.
"The NAPF couldn't be clearer - independence would put the pensions of people in Scotland at risk.
"Whether it's state, public or works pensions, today's report exposes the huge pensions costs involved in breaking up the UK."
Expert commission
However, Mr Swinney said pensions would not be affected by any transition to independence.
He added: "In an independent Scotland we would make decisions for Scotland based on the needs of the people of Scotland, which is why within two years of independence, an expert commission will report on the rate of increase in the state pension age that best suits Scottish circumstances.
"People's pension rights will be fully protected in an independent Scotland and payment of the benefits they have built up in their existing workplace pensions would not be affected by the move to independence.
"The same principle would apply to the state pension. In an independent Scotland the state pension will continue to be paid in full, and on time, as now."