Scottish independence: Scotland 'would have licence fee funded TV'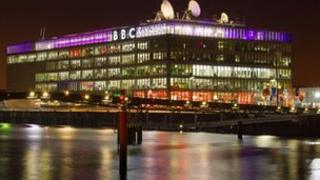 An independent Scotland would have a new licence fee funded broadcaster based on the assets and staff of BBC Scotland, a Holyrood minister has said.
Culture Secretary Fiona Hyslop made the pledge in a speech to the Salford Media Festival.
She told the gathering that the current level of licence fee "would be more than sufficient to provide a high-quality service".
However, pro-Union backers said they feared a loss of service.
People in Scotland will vote in the independence referendum on 18 September next year.
They will be asked the straight "yes/no" question: "Should Scotland be an independent country?"
Ms Hyslop said she believed independence would offer the opportunity for the Scottish government to "meaningfully address the need for more opportunities for broadcast producers and creators in Scotland".
She said: "In the Scotland I wish to see, the values and principles of public service broadcasting will be upheld. We will have a publicly-funded public service broadcaster, and provide the environment for a thriving local and international broadcasting industry based in Scotland.
"I want to see our screen industries flourish. With access to all fiscal levers following independence, future Scottish governments could set policy to best suit our own broadcasting industry.
"When compared to the expenditure by nations of a comparable size on their primary public service broadcaster it is clear that Scotland's current level of licence fee would be more than sufficient to provide a high-quality service, and as such I would not envisage the Scottish broadcaster carrying advertising."
Ms Hyslop said she wanted to "make it clear" that after independence all the existing UK TV broadcasting licences, such as ITV, Channel Four and Channel Five, would be honoured.
She added that Scotland's viewers and listeners would "continue to enjoy" shows like Dr Who, Coronation Street, Strictly Come Dancing, The X-Factor, Hollyoaks, Dispatches, Steve Wright in the Afternoon and The Archers.
However, Scottish Conservative leader Ruth Davidson said she believed independence would lead to the loss of popular TV programmes or result in households paying more for big sporting events and "our favourite dramas".
She added: "I worked for the BBC for a number of years and I know that right now we get the best of both worlds.
"We get distinctive Scottish broadcasting and world-class BBC programmes.
"We pay around £300m towards the licence fee but, by clubbing together with the rest of the UK, we get well more than £3bn worth of programming."
Ms Davidson added: "Running a new Scottish broadcaster means something has to give.
"Either, it will mean losing programmes or paying more for amazing coverage of things like the Olympics, to great channels like CBeebies and services like the iPlayer.
"Why pay more for what we already enjoy?"
A spokesman for the UK government's Scotland Office said: "Contrary to what the Scottish government assert, a vote to leave the UK is a vote to leave its institutions, including the BBC.
"Any bid by an independent Scotland to make use of existing BBC services or content would have to be negotiated, and the potential impact on the services it provides to the remainder of the UK would need to be taken into account."
He added: "They have provided no detail on how their proposals for a national broadcaster would be funded and what this really means for viewers."
A spokesman for the BBC said: "On the question of the future of the BBC, we have stated that we will not enter into any public or private discussions about the future or the shape and nature of our services after the referendum until that referendum has taken place.
"To do so might compromise perceptions of the impartiality and balance of our coverage."