Tailor-made economy would suit Alex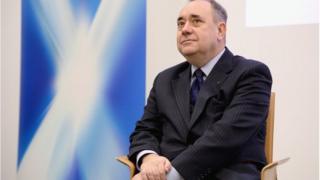 Suits you Sir, as Alex Salmond might have said. Certainly, the Scottish government document he was launching promises a "bespoke" package of economic support - and declares that it would be tailored to fit Scottish needs.
That is one of the key themes of the SNP offer in this referendum: that policies are, ultimately, driven by the needs of the City of London and the populous south-east of England; that an independent Scotland could match policies on tax and other measures to the distinctive needs of Scotland.
To be clear, today was not a draft manifesto for the SNP - nor even a final list of Scottish government priorities. It was a menu, a declaration of what might be possible under independence, whoever might be in power.
Next week, in the White Paper, we will learn more about the particular dishes favoured by the first minister and his colleagues.
However, if you are of a mind, you might care to cast a glance at Page 110 of the document where you will find listed a fairly full list exemplifying what an incoming government under independence might choose to do.
It includes "carefully targeted tax measures such as a reduction in corporation tax to counterbalance the pull of London and the South East."
Also listed there are: National Insurance relief for employers to support jobs; an emphasis on manufacturing; and possible incentives for capital investment.
Readers of this website will have followed Monday's report from the Institute for Fiscal Studies which listed the long-term challenges facing an independent Scotland in coping with declining oil revenues and an imbalanced population profile.
Alex Salmond did not seek to rebut the report per se: indeed, he quoted with approval their finding that an independent Scotland might care to produce a more efficient tax regime.
Rather, he argued that things did not have to be so gloomy, long term, as the IFS model suggested.
Innovative exploration was likely to generate more North Sea revenue than forecast, over a longer period.
Further, he said that the IFS used a population forecast which did not take account of recent increases in Scottish numbers - and a likely continuing upswing which could be directly encouraged by policy, such as attracting skilled migrants.
Mr Salmond's opponents remain unconvinced. They believe he has yet to answer the questions raised by the IFS and others.
Further, they note that his model with regard to tax involves competing directly with London. Given that, they add, why would the UK government agree to share a sterling currency zone with Scotland, a declared economic competitor?
Because, says Alex Salmond, it would be in the interests of the UK as well as Scotland. Onwards to the White Paper.